Alive at the Deep Blues Fest

Alive at the Deep Blues Fest
Alive Records
Christopher Duda Sugarbuzzmagazine Canada
Sugarbuzzmagazine.com
Knock Knock
Who's There?
Corn In Map……..
Yes, Yes,Yes, childlike meandering folly and an incessant need to relay poop and dick jokes. Never fails to grab the gonads…hanging on for dear life like a lonely possum hanging from his wrinkly pink, slightly hairy tail. Yes, as George Jones and Tammy Wynette once wrote..God's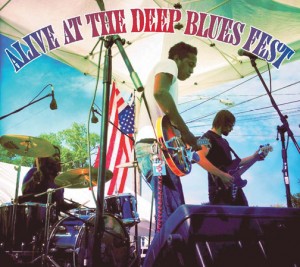 Gonna Getcha For That.. … Sorry Jesus. I will say ten Hail Mary's and join in a chorus of Yes Jesus Loves Me while dressed up as Bam Bam and maybe Pebbles…kind of like Glen or Glenda…
Oh, yeah Baby. It's ALIVE with pleasure and reason. Alive I say… its Alive!!! Shameless plugs taken slightly out of context and repetition helps writers block and keep the bolves at way.
Oh wait back to the shit… Dis is da shit.. Alive at Deep Blues Fest is chock full of big yellow undigested nuggets poking out of that big brown log cabin floater!
So ya got dem big blue dangling veiny balls again… You notice that the Jergen Jerkin squeezin' pleasin' human hand pump just ain't fulfilling the prostate fluid production. Sorry, folks but the only way you can give your prostrate some relief is finding some willing participant to massage the old prostate until the juices start a flowing.
Let's get down and dirty on some swamp drippin twang song from the gonads. Roll em up and wedge them down because Alive shakes

your nerves and rattles your brain with a healthy serving of guttural blues. A great cross section and/or confirmation that ALIVE knows music. Balsamaceous for the soul. Elysian illusions of grandeur and worthy of canonization.
I got dem Blues and I just was vilified, crucified, sanctified.  Thank You Alive for Being Alive…
ALIVE AT THE DEEP BLUES FEST TRACK LISTING
01 River Water – Buffalo Killers
02 It's a Shame – Buffalo Killers
03 There is a Bomb in Gilead – Lee Bains III & The Glory Fires
04 The Red, Red Dirt of Home – Lee Bains III & The Glory Fires
05 Traveling – Brian Olive
06 Bonelle – Brian Olive
07 Hold On Me – Radio Moscow
08 Little Eyes – Radio Moscow
09 24 Hour Blues – Left Lane Cruiser
10 Rambling on My Mind – Left Lane Cruiser
11 Three More – John The Conqueror
12 Be your own Invention/Stranger Dig – Henry's Funeral Shoe
13 Henry's Funeral Shoe – Henry's Funeral Shoe