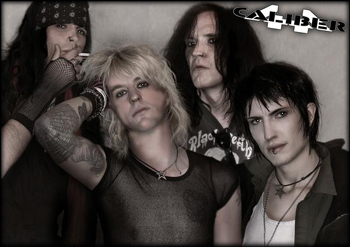 44Caliber
By Reb Sixxx
(SugarBuzz International)
SugarBuzz Magazine
44Caliber is so HOT, they've melted Hell.

44Caliber is a Hell-on-Wheels, hard driving, rock-n-roll band that hails from the bowels of Sweden. Their music is over the top, the stage show is complete debauchery, and they will soon be in a city near you. Better lock your doors and hide your daughters.

It was early last summer when I first heard these hot rockers. I immediately loved the music, so when the opportunity presented itself to see them play live I jumped at the chance.

It was an hour before showtime and I had a chance to sit down with these formidable-looking characters for a pre-show interview. In many ways they looked like your stereotypical rock band but the moment they began to speak, I knew something was drastically off.

SB: So CC, how long has your band been playing together?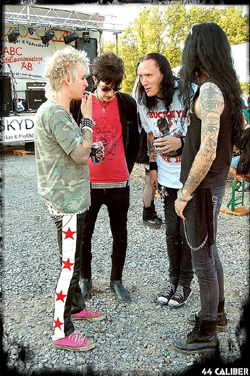 CC: Hail Satan.

His answer caught me by surprise. Okay, so he was trying to be funny. You know how singers are. Let's all make the hot interview chick feel stupid. Yay. So let's try this again. Being cool under pressure I turned to Nikke the bass player.

SB: So Nikke, your band's been together for how long?

Nikke: Hail Satan.

I saw a trend developing quickly. Perhaps I will have better luck with the guitar player.

SB: Chris?

Chris: Hail Satan.

Drummer? Please God, let the drummer be sane.

SB: I bet your answer is "Hail Satan" too, right Flodiz?

Flodiz: Yeah.

Fuck yeah! We have a new response! I'm sure Satan was disappointed. Things seemed to be cruising right along now so I launched into the next burning question.

SB: So when are you entering the studio again?

44Caliber: Hail Satan.

Oh fuck it. I give up. They obviously don't speak much English but I did kind of enjoy them making me feel like a piece of rare meat on a human-sized platter. I thanked them and slid carefully along the walls of the backstage area towards the door. I couldn't risk my backside being seen by any of them because it could have been very dangerous. Safety first. I made it out of there alive, bolted towards the crowd, and shoved my way up to the front of the stage. I flew all the way to Sweden and dammit I was going to make it count.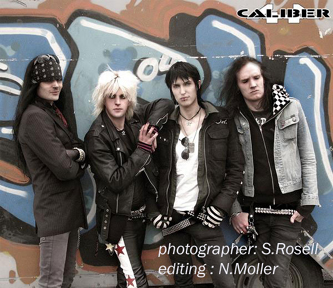 From the moment they hit the stage it was non-stop energy. I stood there with my mid-western mouth gaping open. What the HELL was this? These guys made Motley Crue and Guns N Roses seem like angelic choir boys. 44Caliber officially killed the very last brain cell that I possessed. And I loved every stinkin' minute of it.

Between the orgasm-inducing and guitar-driven songs, the hot chicks dancing in crudely made cages on the sides of the stage, and the 44Caliber printed condoms being thrown into the audience, I knew I was far away from St Louis Missouri.

The show was awesome and I rocked til I dropped like never before in my life. Afterwards, I hurried and got the hell out of there before I became an after-show snack for the band. Rebecca ala carte. Mmmm. Delicious.

I stumbled out of the club and somehow found my way back to St Louis Missouri USA but I couldn't quite forget what I had experienced. Hundreds of showers later and I still feel corrupted by them. This band is one you won't soon forget...if ever. They changed my whole reality in one mayhem-inducing rock concert. Perhaps I need therapy.

So imagine my surprise several months later when news leaked they had re-entered the studio. They now have management, promotors, and tour planners. The rumor is they also have interest by a major label. Obviously someone can get more than "Hail Satan" out of them now. Groovy.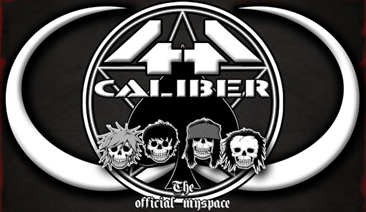 I somehow got my grubby little hands on a pre-release copy of the still untitled upcoming CD. It was recorded at Studio Overlook in the town of Gävle Sweden with William Blackmon behind the board. My hands shook as I put it into my CD player and after chanting 10 consecutive "Hail Mary's" I pressed PLAY. Odd considering I'm not Catholic.

The first song that assaulted my ear drums was a song called, "Cure". From the first few notes I was literally pulled outta my chair by unseen forces. This song kicks ass on so many levels that I was suddenly frozen into place in a sort of perma "Horns High" position. I LOVE this fucking song! I'm not sure who I have to blow to get this as a free download for you, but trust me, you'll have it. If you see it linked DOWN THERE, then my deviously-depraved, slutty little plan worked. Yay.

The second song is "Too Many Lies". I could not believe that these guys could write a song such as this. It crosses all genres and it seems the most logical choice for a single in my opinion. The song is catchy, the lyrics are well-written, it rocks your balls off (clit?), and it cuts through the stereotypical "rock" bullshit that so many bands are churning out nowadays. The bridge in it has this really haunting spoken word type thing and it's just bad ass. You've got to hear this song.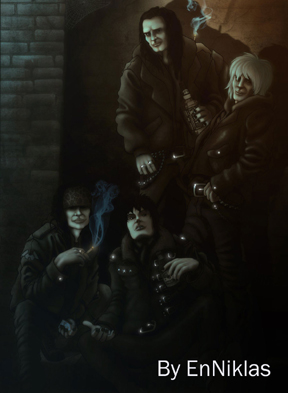 The next song on the CD is, "Sunday Morning 8am". Think Skid Row on meth-amphetamines. I can see the circle-pits erupting in the crowd now. If you don't move and just stand still to this song, then you have to be dead. There would be no other explanation.

The 4th tune is a slower, more melodic song that has some very powerful passion to it. It's quite moving and I'm sure it will get the lovers dancing. Move over metal-heads. Go get yourselves a beer and take a leak. Put on some deoderant while you're at it. You freakin stink. Gotta love a good power ballad.

Track 5 is, "Story of My Life". I believe this is single number 2 for sure. Grooving rock with a touch of pop. Radio is going to love this song, as will the people listening to it. I can't help but to think of KISS when I hear this song. It's one of those anthem songs that will have the crowd on their feet stomping and singing along.

Rolling into the 6th song, it's called, "Fallen". It's a VERY well-constructed song...almost a Motley Crue vibe. I could listen to this song 50 times in a row and never get bored of it. It makes me want to drive fast, rob banks, or hard-core fuck. It's one of those songs that you just have to DO SOMETHING to. Sitting still is not an option.

The last song on this CD is called, "Miles Away". Unfulfilled love is the worst kind of love to endure. Life is too short to stay with someone who is less than what you deserve. The lyrics are very deep and everyone can relate to them. A hard rockin song with meaning. I absolutely love it. All in all this CD is definitely worth owning and is a must for every record-collector out there.

Whatever path this band is on is definitely the right one. I fully understand what all the excitement about them is now. CC's vocals are a raspy blend of Rod Stewart, Tom Keifer (Cinderella), and Bon Scott (AC/DC). Chris' guitar style is very similar to Slash of GnR, sprinkled generously with Ted Nugent attitude. Chris is also the bands composer, and is extremely talented and unique in all that he creates. Nikke is a very solid bass player and he pairs perfectly with Flodiz the drummer to round out 44Caliber's totally unique underlying pulse.

I don't know how else to say it any better or clearer: this band is the ultimate party band and they are going to take the world by storm. Keep an eye on the sky and an ear to the radio.

Free 44Caliber Download..... "Cure" Get it here
http://www.myspace.com/44caliberofficial