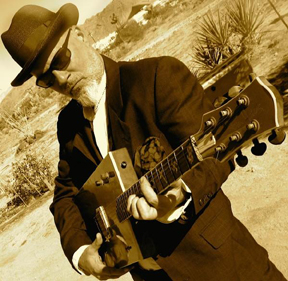 Bob Derwood Andrews
Generation X / Empire
By Christopher Duda
(SugarBuzz Toronto)
SugarBuzz Magazine
Perhaps one the most under rated guitarists to emerge from the UK punk scene-Bob Derwood Andrews has been lauded as an influence on many bands and individuals, spanning many different scenes and musical landscapes. Generation X might have been the band that put Derwood on the map but he did not stop plying his trade in 1979 when Gen X disintegrated. Derwood went on to form Empire with Mark Laff from Gen X and although in the grand scheme of things this band was short lived; it inadvertently spawned many offspring out of the D.C punk scene. For a full listing of the bands and projects Derwood has played in please visit his website (listed below), read this interview for insight into guitars, history, and scantily clad sex kittens.
Chris- What guitars have you played through out your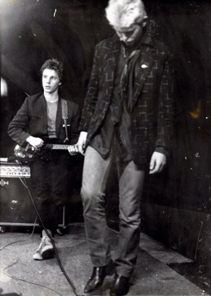 career?

Derwood- I was fortunate to have grabbed my mum and dad's awful acoustic guitar at a young age and learned to tune it, and a few chords. I still have it and I knifed 'Gibson' at the headstock in the cynical hope that it would be believed. I gradually progressed through the 70's Jap copies but always thought the reason that my 'heroes' were so good was because they played Fenders and Gibson's, and if I could ever afford one of those I would be great too.

By the time, I landed in a 'proper' band (Generation X) I had the opportunity to finally buy a real American guitar and had to fight to make it an old beat up Fender Strat as opposed to a Les Paul scuzz wagon. The reason, if any that Generation X sounded fresh and different than our similar bands, was that it was a Fender as opposed to a Gibson, I.E. Sex Pistols – Les Paul, Clash – Les Paul Junior, Damned – Gibson SG. Strats were thought of as 'heavy metal guitar hero things' hence my choice.

I did succumb to the Gibson guitar during the recording of 'Valley of the Dolls' and from my point of view that's why it sounds so pompous. Now I realize that a guitar is a plank of wood and it is not what it says on it, but what you can do with it that counts.

Chris- Is there a guitar that you would love to get your hands on and what would you consider the "holy grail of all guitars?

Derwood- I almost purchased Paul Kossoff's (guitarist with Free) Strat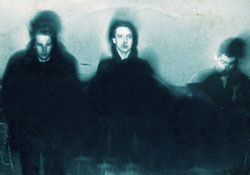 from an advert in Exchange and Mart back in the late 70's. We drove up North with the 550 quid to buy it but the seller had refinished it and in my mind ruined this iconic tool. Therefore, I passed on it. Recently Paul's Les Paul is on the market for over half a mill, which is not in my capabilities financially or spiritually. I guess it is a nice guitar though…

Chris- What guitarists were influential on you learning your chops/style?

Derwood- I learned everything by listening to records that came my way. Chuck Berry, Buddy Guy, Mick Ronson, Eric Bell (Thin Lizzy) Ritchie Blackmore, Robin Trower, Jimi of course, Ron Wood, Wilko Johnson, Robert Johnson, Cliff Gallop, Bo Diddley, many more apart from Eric Clapton.

Chris- What is your preferred set up (amp, pedals etc)?

Derwood- Strat – Marshall – no pedals.

Chris- Are there any unsung heroes out there that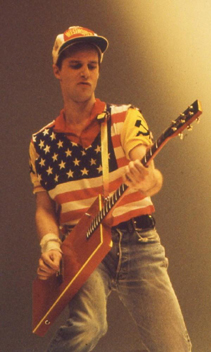 should have been revered in their day or forgotten by time?

Derwood -Yeah, Tommy Bolin and me!

Chris- I came across a picture of you with Chuck Berry on the internet. Did you ever have the opportunity to play or jam with him?
Derwood- No, just shook his big banana hand, the hand that changed the World.

Chris- I am wondering if you could comment on the following guitarists-

 Johnny Thunders – An original out of it icon for many, not me.

 Link Wray – Hank B. Marvin was more relevant, personally.

 Lonnie Mack – Who?

 Django Reinhardt – All thumbs…

 Hubert Sumlin – fuckin' genius with The Wolf.

 Mick Taylor – What ev's

 Roy Buchanan – Not my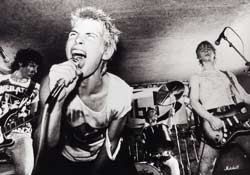 thing, could be wrong though…

 Frank Zappa – Great records, but not an inspiration guitar wise.

 Mick Ronson – R.I.P. The inspiration of my youth and a lovely person.

Chris- What elements make up a great band? Given that you have played in many different bands what do you feel didn't work and what was successful in each one?

 Generation X – Phony, greedy, foolish but some great angst accordingly.

 Empire – Shy, emotional, honest and lost.

 Moondogg – So ahead of the time, even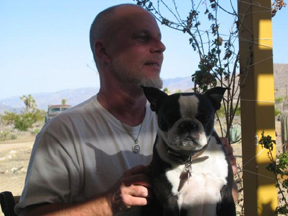 now.

 Westworld – purposely goofy, inane, and short lived for the buck, but musically still a blue print for fun Rock 'n' Roll.

The fantastic thing about music is the blind faith that you can achieve your dreams at the same time as giving spirit to lonely souls. It takes dedication and years of struggle to be in a band.

# 1. Find three or four wives that you never fuck.

#2. Try to maintain being the 'boss' but share everything. Have a drummer who hits hard but hears everyone else. Have a bass player that wants to lock into the bass drum, have a guitarist that shuts up when there is a vocal and re-instates the vocal tune as a solo. Have a front man singer who people love or hate and with confidence can hold a note now and again.

Chris-What bands do you consider to be "great bands" and why. What elements contributed to them being a great band? Are there bands that did not get their due?

Derwood- Buddy Holly (The Crickets) was the first group, The Beatles were untouchable, Free was the best British blues band ever. The Jimi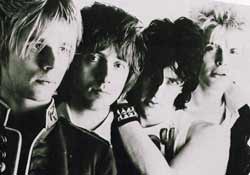 Hendrix Experience was brilliant. The Sex Pistols were incredible.

Chris- How influential are surroundings to the music you create?

Derwood-Desperation and a need to communicate is the birth of creativity, also mistakes are the road to everything rock'n'roll. That is why the sanitized mistake free World of music we are handed these days leaves you cold. I am so pleased to have lived through and been a tiny part of the last great thing. You are what you eat, you do become part of what surrounds you… there is still a chance that something along the way will effect your life and be a part of who you are or become. However, the initial beauty of Punk Rock died after six months nearly 35 years ago and now the Godfather of Punk, Malcolm is dead. Nirvana came through 15 years ago, I wonder if anything worthwhile will make it again? I fuckin' hope so.

www.myspace.com/derwoodandrews
www.heydaymediagroup.com/pages/RobertDerwoodAndrews.html