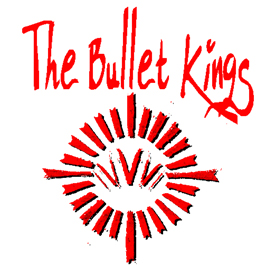 The Bullet Kings
"Raise Your Glass for England"
CD Single / Download (Moriarty Records)

By Rich Cocksedge
(SugarBuzz UK)
Photos by Jonny Sadler
SugarBuzz Magazine
As it is the year 2010 and yet another World Cup (of football/soccer) looms, it is also time for World Cup songs come flying out of the woodwork, from all kinds of genres with varying success. It must be said that in all truthfulness, most songs (if not all of them) have the same degree of success as the England football team whose ability to flatter to deceive comes around for most major tournaments.

I'd already heard one (very bad) England football song with a punk background when I was offered the chance to review The Bullet Kings' "Raise Your Glass for England" and so it was with trepidation that I approached my first listen. I must put my cards on the table, in that not being English, I won't be getting carried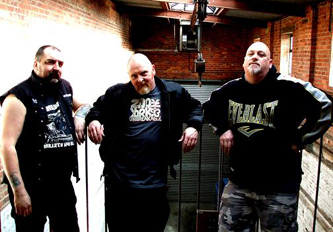 away by the nations' involvement in South Africa. Don't get me wrong, I will be watching as much of the competition as I can but will not be flying a flag or being too downhearted if the few world class players in the English squad fail to deliver.

Back to the music! World Cup songs don't give bands much leeway in terms of lyrics but what can make them stand out is how the words blend with the music, and in the case of The Bullet Kings they manage to come away with a song, although lyrically basic (obligatory mentions of "three lions" and "1966" are included), that has a ripping punk rock feel to keep it going along at a fair pace. This kept my interest throughout the 2 minutes and 42 seconds of the song and (*I whisper this*) had me singing along as well, which would probably turn many heads back home in Wales! This isn't plodding punk rock either and the threesome do produce a mighty sound with vocals that can best be described as if the singer/bassist, Wilf, has been gargling with a mixture of broken glass and gravel. Don't let that put you off, as it sounds very earthy and punk without being unintelligible. With Carl providing a raging guitar sound with some well included solo work whilst Andy bangs away like a slightly restrained Animal from the Muppets, this song is a triumph in a genre that so often disappoints.

The song never slows up, doesn't have a feel that it is cheesy in any way and this helps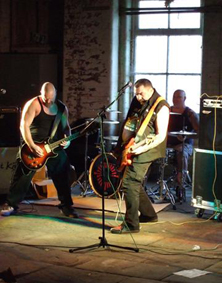 make it a thoroughly enjoyable romp. I'm sure that this would get played in many pubs across the country during the months of May, June and July this year, with many fans singing whilst actually raising their glasses – if it doesn't, then what do football fans want? a dull and boring, lyrically challenging song by someone like Radiohead?

The b-side, "Godforsaken Town" takes us back to a more punk theme that was prevalent back in the late 70's/early 80's and is still something that many encounter in this new, modern age. With all the advances in technology and life in general it might seem strange that some people still have difficulty in that the village, town or city that they live in offers very little to them other than it probably looks and feels the same as many other places in the same country. Just from travelling around a small part of the UK, there is a similarity to many places these days as all the shops look the same, the way houses look are the same and to do something different is almost frowned upon. Sounds just like being a punk back in the 70's/80's!!

The Bullet Kings provide two great songs on this single, three if you include the radio edit version of "Raise Your Glass .....".

www.myspace.com/thebulletkings
www.myspace.com/moriartyrecords