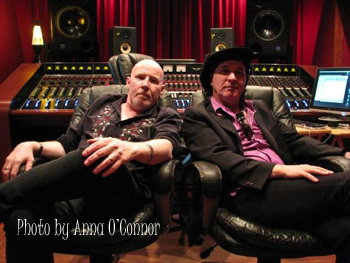 Cheetah Chrome
By Christopher Duda
(SugarBuzz Toronto)
SugarBuzz Magazine
Cheetah Chrome. The name is synonymous in the development and implication of what eventually was coined "Punk Rock". Cheetah Chrome cut through corporate rock with a sneer and not a care in the world swagger- with protopunk rock legends Rocket from the Tombs in 1974 and mutating into Frankenstein and finally (de) composing songs for New York punk regulars-The Dead Boys. Cheetah Chrome with Sylvain Sylvain(New York Dolls) currently now have a band called "The Batusis"(see link below).With a single under their belt and shows lined up for Europe and North America they are ready to spoon feed you rock and roll the way it should be played one fat dirty chord at a time. In the past, the Dead Boys came for your children….now "The Batusis" have come for you!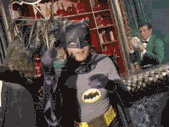 Chris - I read that Syl was doing the batusi (dance from the 60's Batman series) in the studio and that is how you came about the name. So, if Syl is the Fred Astaire of the Batusis whom would that make you?

Cheetah - Well, I don't know if doing the Batusi makes you Fred Astaire…..it's closer to us being a couple of Curly Howard's …. things can get very silly real quick.

Chris - I think that this project inevitably will spit out some real rock and roll. Do you cover the New York Dolls, Dead Boys, and Rocket from the Tombs? What is the attitude that prevails before you hit the stage?
Cheetah - We do a little of each, and at SXSW we threw in the Heartbreakers- "I Wanna Be Loved", as it has the spirit we wish to convey. Since we have only hit the stage twice, I would have to say nerves prevail; that will change though, and we can follow up on that if you want.
Chris - The EP was released on Smog Veil on May 3rd. When do you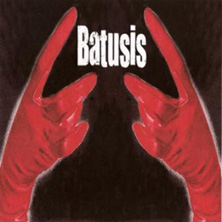 expect the album to be released?

Cheetah - I would hope by Christmas, but that is really off the top of my head, I have no clue.

Chris - What were your overall thoughts on your debut gig at SXSW?

Cheetah - I thought it went very well, we had a great response from the audiences at both shows and my son loved us! I was very encouraged. My only other thoughts on SXSW are of I -35, my home away from home that week. In addition, I had never seen snow in Dallas before….

Chris - Neither you nor Syl really ever gave up playing. Was there ever a time when you thought that you might just pack it in?

Cheetah - Actually, I was doing my damndest to pack it in back in 2002, and then of course Rocket got back together and so much for a sane life…

Chris - Why do you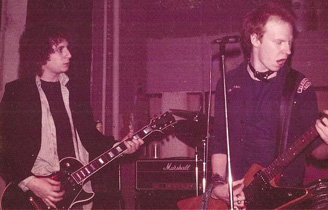 think it has taken the world 30 + years to catch up with what the Dolls and Dead Boys/Rocket from the Tombs were doing?

Cheetah - Because they are not as smart as we are, or as cool.

Chris - Has being a father changed your life?

Cheetah - Oh yea, in many dramatic ways. I had never really served in the capacity of road manager before, but that is exactly what it is. It is my job to get him wherever he needs to go, in good shape, whether he wants to go or not. I have to make sure he eats, sleeps, and has a clean ass, whether he wants to or not. See? Same exact thing! It is very humbling. He is a lot nicer to me than I have been to road managers, though, and I am lucky for that! I have been lucky enough to be able to spend a lot of time with Rog, we are big buddies, and I love that!

Chris - You are playing Toronto in July are there plans to play other areas of North America?

Cheetah - Oh yea, we are hitting a good part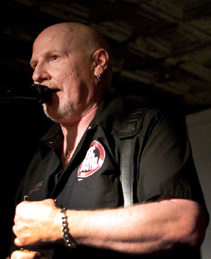 of the Midwest and East Coast this trip, as well as a few places in the South. We will get to the whole thing eventually; we are just going to take our time. We have lives outside the bus that need our attention as well.

Chris - How did it come about that Ken Coomer (Wilco, Uncle Tupelo-drummer) produced your EP?

Cheetah - I had worked with Ken once on a session, I did for another artist, and I enjoyed working with him. When we decided to do this in Nashville, I immediately thought of him. He has a great, very relaxed way of working, and good instincts, and he is also a drummer and gets a monster drum sound.

Chris - How did the band (what the press is calling "a super group") come to fruition and how did Enzo Penizzotto and Thommy Price from the Blackhearts join this project?

Cheetah - Well, it has been blown a little out of proportion – after the way it went for "supergroups" in the '70's, I would like to avoid that tag. We are just good buddies having a laugh, making some good music together, doing what we love to do.

I had been doing occasional shows on the East Coast with the Blackhearts as my band; we are all good friends and enjoy playing together. When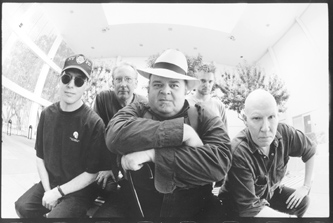 Syl and I were deciding on whom to use for a rhythm section, Thommy and Enzo were my first suggestion, and they did a hell of a job. They will not be able to do the live shows, as they are after all Joan's band, so we have Lez Warner (formerly of The Cult) on drums, and another former Blackheart, Sean Koos on bass. We just got done doing some rehearsals in Las Vegas, and I think everyone will be more than happy with the line up!

Chris - Do you have other projects on the go and what are your plans for future musical endeavors?

Cheetah -Well, Rocket just put out a new single ,"I Sell Soul/ Romeo and Juliet" , and are planning on doing some more work this year ; I also played on a single by a band called the Butcher Boys, on a traditional Irish song "I'll Tell Me Ma". That and the Batusis are plenty to keep me busy. I will also probably be doing some promo stuff for my book, too. I believe I am also doing some leads on the new Boogers' CD…

Chris- Are there any musical heroes that you would love to jam with?

Cheetah - James Williamson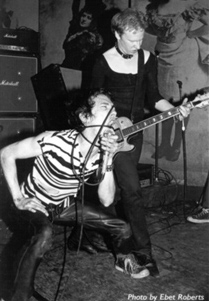 comes to mind ….I have jammed with most of them, at least the ones that are not dead!

Chris - How was it decided to cover Davie Allan and the Arrows-Blues Theme? Were you a big Roger Corman Fan?

Cheetah - No, I am a big Davie Allan fan, as is Syl. He brought that one in. Roger Corman is okay, a little too hokey for me.

Chris - I always thought that your style of guitar and Brian James style would lend well together. Have you ever jammed with Brian James?

Cheetah - We have jammed onstage many times when I have joined the Lords at shows; we have always been good friends and enjoyed each other's work. I love the guy, he is like a brother.

Chris- How do you feel about the current administration of Obama and what are your thoughts on the future of the U.S.A politically?
Cheetah-Well, I love the guy; I think he is doing exactly what he said he would do. He has had me worried a couple of times….he had a tendency to be all over the place the first year; he was trying to do too much. I can understand why, because in the climate we have here now, he might only have four years, and he has a lot he wants to do, as well as a lot to fix that Bush screwed up. He seems to be hitting his stride now though, and many things he did last year are starting to show results. He could be very popular again come election time, both 2010 and 2012.

As for the future of the US politically, it does not look good. It has become sort of an example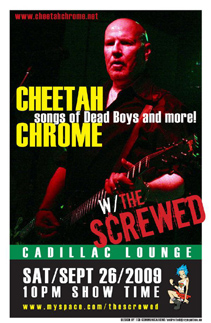 of a failed social experiment the way it is now, it has been destroyed from within by greed and ignorance. Too many people want to run a 21st century country on 18th century thinking, and are inflexible about it. Capitalism has really failed; or rather, we have failed it. The concept itself is valid, but it depends on total trustworthiness and honesty. As for the Democrats, progressives, whatever – they are too damned polite –they bring "Kumbayah" to a gunfight. The American people care more about "Dancing With The Stars" and Kate Gosslin than they do politics, unless their paycheck doesn't go up a little bit every couple of years, in which case they get really loud and show how little they understand.

If either party could come up with a person like Eisenhower it would be great, but I think Eisenhower himself would have rough going these days. He probably would not want the job – I am sure beating Hitler was easier!

Chris - I have seen you play recently in Toronto with The Screwed. How did your association with them come to be?
Cheetah - Actually Lou Molinaro hooked us up; I knew a couple of the guys from the old days, but had not seen them in years. When I planned to a show in Toronto, Lou suggested I use them as my band, and we have worked together a lot since. I love those guys; if geography did not keep us apart, I would play with them a lot more!

Chris - New York Junk will be playing with you in Toronto in July. Have you had the opportunity to see them before?

Cheetah - I caught just a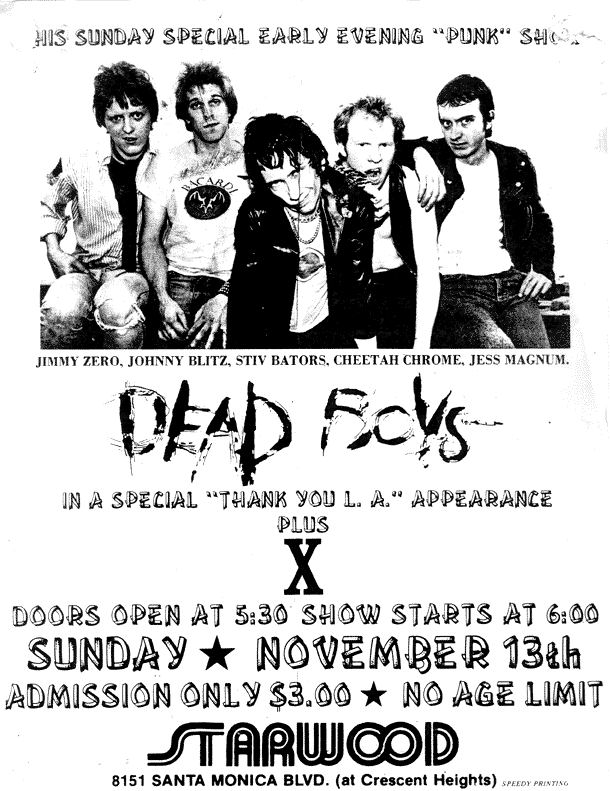 little of a set in NYC a while back, it was cool. I hope I can catch them this time!

Chris - How do you handle life on the road?

Cheetah - A well-loaded IPod – lots of Monty Python and Fawlty Towers, some Duckman, all my favorite music.

Chris - Any plans for Rocket from the Tombs? Any chance of Johnny Blitz joining the line up?

Cheetah - Well, the single is out, plans are being made. I don't know about Johnny joining the line up, Steve does an awfully good job. Moreover, Blitz quit the band twice in the old days, so it does not seem he liked us much.

Chris - Any observations or comments on the following people/bands

Mother Goose - Do not know much about them, really, other than that Stiv was in it. Never saw them except for an 8mm film clip with no sound.

Blue Ash – saw these guys a few times, good band. I enjoyed playing with Frank when he was in the Dead boys Peter Laughner – I miss him. I listen to him a lot lately.
Nico – a very sweet, sad person. I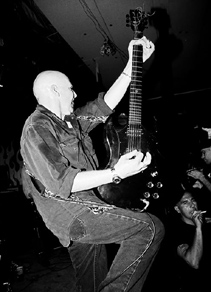 really liked her.

John Belushi – a good friend, and a tragedy what happened. A classic case of why you should not hang around with assholes.
Bob Stinson - Another sweet person, and a great player; I wish we had played together more.

Seymour Stein - I wish he had understood us, because he did not. At all.

Lester Bangs - great writer, but sort of a boring guy in person. Nice though!

Ron Asheton –Loved him, a brilliant guitarist, and an original. I would not play the way I do if not for Ronnie.

Hilly Kristal - the father I never had, really a good friend. I loved the guy, and his contribution to furthering original music in this country is second to none.

Rob Tyner - A great singer, writer, and performer. I only met Rob a couple of times, but we clicked immediately. When Stiv died, he was one of the first people to call.

Chris - In your mind whom is the most underrated musician?

Cheetah - I would probably have to say Jimmy Zero. The guy is one of the best rhythm guitarists ever, in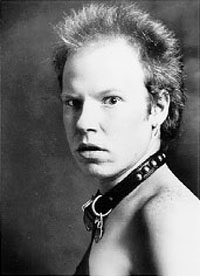 the true sense of what a rhythm guitarist is. Just brilliant. No slouch on leads either!

Chris - Parting thoughts?

Cheetah - Hmmmm…….erm….aaah……nah, that's it!

http://www.myspace.com/batusis

get the single and shirts here!

http://www.smogveil.com/ecom/cart.php?target=category&category_id=53