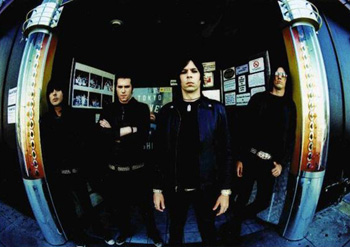 Todd Youth
The Chelsea Smiles
Hollywood CA
By Scotty
(SugarBuzz Hollywood)
1. For readers not familiar with The Chelsea Smiles, please introduce yourself and give us a brief history of the band?

I started the band when I was in between tours with Danzig, just wanted to play some rock n roll and have some fun.

2. You guys seem to be a doing very well these days, how did the Acetate deal come about and what happened with leaving Capitol Records? Does the band prefer to go with a smaller indie label versus a major?

When we were still on Capitol, Acetate was gonna put out a side project I was working on with Sammy Yaffa (NY Dolls,Hanoi Rocks) and Danny Young(Gluecifer), we recorded some stuff but i wasn't to happy with it, so when we left Crapitol, there were a bunch of other indies who wanted us and Acetate seemed to be the one who really got what the band is about, and really believe's in us.

3. Being that the NY Dolls are a big influence, What was opening for them like?

It was such a blast,we got to open 5 shows for them, the best one being in NY, which is my hometown, so to be able to play with the Dolls in NY was such an honor

4. How was the tour with Backyard Babies and will you guys be doing another national and overseas tour in support of your new record?

The tour with us and the Backyard Babies was pure insanity,I've known those guys a reall long time, when they would be in NY we would always hang and anytime I was in Stockholm I'd end up at Dregen's house to the wee hours of the morning. Us and them sharing a bus was pretty crazy many sleepless nights, and the shows were great. We'll be heading back out in November for a full US tour,and then after the holidays its off to Europe.

5. With the departure of Christian Black and addition of new guitarist Skye, has the sound changed and how did this change affect the band?

They're both very different players, Skye definetly comes from the Thunders school of guitar playing so he fits right in with what we're doing, plus he has a great voice.

6. You guys seem to be playing a lot in SoCal lately and doing short sets, please explain?

We wanted to break Skye in and the best way to do that is to play live,we're a rock n roll band, and thats what rock n roll bands should do, get out and play live. As far as short sets go, leave em wanting more.

7. There are a lot bands these days trying to do the Dolls, Thunders, Heartbreakers sound....what makes The Chelsea Smiles different from the rest of the pack?

Well for starters, I grew up in the Lower East Side, so this shit is in my blood, I've been listening to The Dolls and the Heartbreakers since I was a little kid, those guys were my heroes then as a teenager I hung around those guys alot, I use to play with Walter Lure and play and sing all Thunders parts, so I know this music like I said its in my blood, and we're on a mission to keep this kind of rock n roll alive.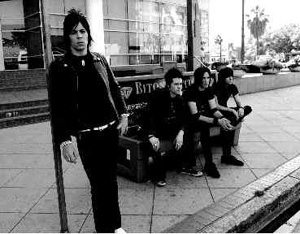 8. On stage, the band has a very uniform look....all black and very serious. Explain this.
I always thought that bands like the Ramones or the Clash looked like a gang, so i always wanted us to look like a gang, plus when you're on the road you don't have to wash your clothes as much cause no one can tell when they are dirty.

9. Of all the places the band has played, where has been the most successful?

We've been real lucky to open up for some great bands, but any gig we do were we turn one new person on to us is a success. Some of my favorite shows we've done, NY Dolls in NY, Social Distortion in Phoenix, Eagles of Death Metal in Chicago, Backyard Babies at the Troubador.

10. What is a Chelsea Smile?

When some gets their face sliced open across their mouth from ear to ear then kneeded in the groin so they scream and their face splits open.

11. When can fans expect the debut full length to be out and when will a full fledged web site be launched? Will the record be available everywhere?

The record release date is October 31, we're working on the site now,and yes it 'll be available everywhere, I think in Europe it comes out a few weeks later.

12. What is everyone's favorite booze?
FREE

13. Any last words for the fans?
Check us out at www.myspace.com/thechelseasmiles

Chelsea Smiles Live @ Safari Sams, Hollywood CA 7/22/06

Saturday night in Hollywood brings The Chelsea Smiles to Safari Sams! This is their Hollywood stop with the Angel City Outcasts. The boys in black take the stage at 10pm and open up with some new material from the debut full length to be released on Halloween. This band is great on a big stage with a full light show and smoke. Makes for a great presence.
Their new tunes are crunchy and raunchy yet very melodic and precise. Todd shares vocals with new guitarist Skye which makes for a good change up. Their set is pretty short, 30 minutes, and they rock out a great cover of the Thunders classic, "Pirate Love" and then end with their own epic, "The Action Coming Down".
The Chelsea Smiles are a great band with a great future lined up! If they come to your town, get off your ass and go see them! You won't regret it!

http://www.acetate.com/home.html