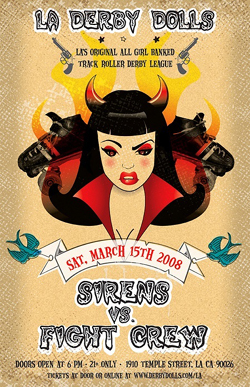 The LA Derby Dolls @ The Doll Factory

Los Angeles CA

Hell on Wheels, the movie

The American Cinematheque @ The Egyptian Theater

Los Angeles, California

February 16 & 17, 2008

By Victoria Joyce
(SugarBuzz Hollywood)
A beating and a movie. That's what we got.

Roller Derby is back. And it rocks. First off, the names kill ya. Tara Armov. Janis Choplin. Crystal Deth. Laguna Beyatch. Go ahead. Giggle.

They warn you on their website, self-described as "skates, skirts and scars," the Los Angeles Derby Dolls are catching on big time. Started in 2003 by Rebecca Ninburg (a.k.a. Demolicious) and Wendy Templeton (a.k.a. Thora Zeen), the L.A. Derby Dolls are 60 women strong. The first two games of Oh-Eight have sold-out. The move out of thier small space in Little Tokyo way downtown LA was a brilliant one.

The new home for the Dolls is called the Doll House and it's in "Historic Filipinotown" just this side of downtown and right off the 101. Super easy access for the Hollywood hipsters and the Silverlake sleek. And parking is easy, available and cheap just like the … oh well, you know.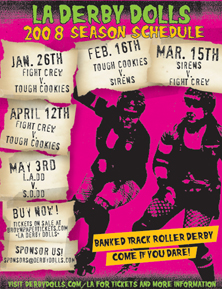 These Dollies are bursting with pride over this new facility with a "banked track." As big as an airplane hanger housing a 100 x 60 foot self-built wood, Masonite and steel elevated loop and it makes all the difference. So much faster than a "flat track." More about that later.

Surrounded by stands for the fans who get a great view and a side mall filled with cool vendors for food, fashion and art. And what do you find at the end? A stage for rock and roll. Perfect or what? A $20 dollar ticket makes this the hottest spot in LA.

The first game on January 26th was on a wet night with pouring rain and flooded streets. One thousand rockers showed up for the roll. We caught local band The Spanks before the game. At halftime we absolutely loved X Factor. Sweet band from Hawaii with a lead singer who looks a little like k.d. lang and sings like Janis Joplin. Lead guitarist who channels Stevie Ray Vaughn rocked out socks off. Write it down: X Factor!

Briefly it breaks down like this, the Los Angeles Derby Dolls is a league made up of three teams who skate against each other so they never really lose.

The Jan 26th game had the Fight Crew vs. the Tough Cookies. The final score: Cookies: 35, Crew: 28. The Feb 16th game had Tough Cookies vs. the Sirens with final score: Cookies: 45, Sirens: 39. Both squeakers that had the fans screaming to the very last. Next on the calendar is March 15th when the Sirens will skate against the Fight Crew.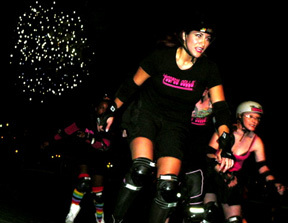 What can we say about these women? Significant, strong and seductive. All glammed up in black fishnets, vinyl, leather and lace smeared with pink lipstick and glittering eye make up. The soundtrack is solid rock; Metal, Punk, Goth And Glam. It's sensational show business and all for real. Dangerous and fast, these ladies are incredible athletes.

And the cheerleaders call themselves "Fear Leaders" also in all black with lots of pink. Nas-tee and so much fun. Tattoos and panites flashing. Circling the stands and shaking their black pom poms. Sis boom bah.

If you've never been, it's easy to catch on. It's a little bit like football with offence and defense at the same time. You have the Pack, five from each side and two Jammers from each team follow behind trying to break through. Round and round. Born in the 30's with a renaissance in the 70's and it's all female and it is it sooo back.

And that brings us to the documentary, "Hell On Wheels," screened at the American Cinematheque and sponsored by the Dolls the night after their second game in the New Year, February 17th.

There was some fine pre-show skating in the theater's courtyard. Even the Doll's Refs showed up. One of them sports skull make up that goes nicely with her black and white striped shirt.


Lots of fans and friends joined the Dolls for this film. Directed by Bob Ray and produced by Werner Campbell who did a Q&A afterward. The band, And You Will Know Us by the Trail of Dead did the music. With a teensy budget, the film took two years.

This doc goes into the early early days of the Derby rebirth in Austin, Texas. A guy from San Francisco thought it would be cool to bring it back. He was a junkie and disappeared pretty quick. But the ladies liked it and soldiered on. Again, these women were amazing. Outcasts and misfits, gorgeous, smart and strong.

Lots of footage of skating and interviews with the first skaters. There were fights, disagreements and power struggles. Mostly about money and who calls the shots. Large and in charge the founders called themselves "She-E-O's" Get it? Instead of CEO's?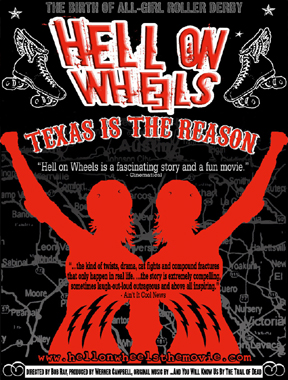 In the beginning, there was the flat track and all the time dreaming of a banked track for a faster game. This took lots of money and know-how. It was a learning experience for these rolling pioneers. The fights got ugly. There was a big split with this first group that left two leagues in Texas and a lot of hard feelings.

The good news? Roller Derby has flourished all over the USA and the new teams learned those lessons and have modeled themselves after the ladies in Texas. The teams are skater-owned and operated. Happy ending or what?

The film had it's World Premiere at 2007's SXSW Film festival is screening all over the country in festivals and in cahoots with local teams.

The vendors at the Doll House are:

Girls Drawin Girls – Art and Animation

Hoodlums for Life - design shirts

I Wish I Had a Penguin Friend/Mucha Muchacha - art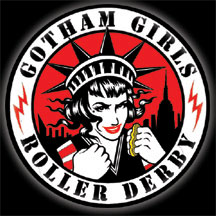 Hearts and Laser Beams - artwork

Freshly Baked Cookies – FB COOKIES! (Would you believe a cookie named after Paul Giamatti? "I love the guy and I believe he should have a cookie named after him!"

Angry Panda - print screened shirts

Peep Show - accessories

Unorthodoxjewelry - bottle cap jewelry

Deadly Kustoms - purses and hair accessories

CryBaby Blues - baby clothes and accessories

Ileana's Design Jewelry - jewelry

Twilight Jewels- jewelry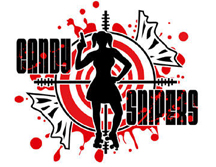 USRollergirls.com (a comprehensive site on the roller derby resurgence)

Alamo City Rollergirls (San Antonio, Texas)

Angel City Roller Girls (Los Angeles, California)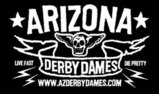 Arch Rival Rollergirls (St. Louis, Missouri)

Arizona Derby Dames (Tempe, Arizona)

Arizona Roller Derby (Phoenix, Arizona)

Assassination City Roller Derby (Dallas, Texas)

Athens Roller Derby (Athens, Georgia)

Atlanta Roller Girls (Atlanta, Georgia)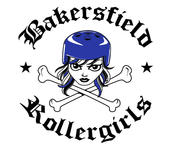 Bakersfield Rollergirls (Bakersfield, California)

Bay Area Derby Girls (San Francisco, California)

Big Easy Rollergirls (New Orleans, Louisiana)

Black-N-Bluegrass Rollergirls (Covington, Kentucky)

Blue Ridge Rollergirls (Asheville, North Carolina)

Boston Derby Dames ( Boston, Massachusetts)

Boston Rollergirls (Boston, Massachusetts)

Bradentucky Bombers (Bradenton, Florida)

Brevard County Derby Girls (Brevard County, Florida)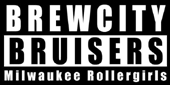 Brew City Bruisers (Milwaukie,Wisconsin)

Burning River Rollergirls (Cleveland, Ohio)

Cape Fear Killers (Wilmington, North Carolina)

Carolina Rollergirls (Raleigh, North Carolina)

Central Coast Roller Derby (San Luis Obispo/Santa Barbara, California)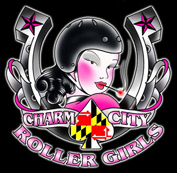 Charm City Rollergirls (Baltimore, Maryland)

Chi*Town Sirens (Chicago, Illinois)

Cincinnati Rollergirls (Cincinnati, Ohio)

Coal City Rollers (Wilkes Barre, Pennsylvania)

Connecticut RollerGirls (Stamford, Connecticut)

Crossroads Roller Derby (Indianapolis & Bloomington, Indiana)

Dallas Derby Devils (Dallas/Ft. Worth, Texas)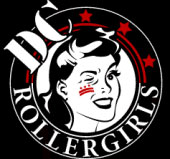 DC Rollergirls (Washington, DC)

Deep South Derby Dolls (St. Augustine, Florida)

Denver Roller Dolls (Denver, Colorado)

Derby City Roller Girls (Louisville, Kentucky)

Derby Rotten Scoundrels (Dallas/Ft. Worth, Texas)

Detroit Roller Derby (Detroit, Michigan)

Dirty Dames Roller Derby (New Brunswick, New Jersey)

Dixie Derby Girls (Huntsville, Alabama)

Dockyard Derby Dames (Tacoma, Washington)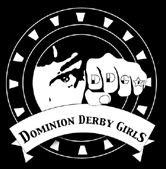 Dominion Derby Girls (Virginia Beach, Virginia)

Duke City Roller Derby (Albuquerque, New Mexico)

Dutchland Derby Rollers (Lancaster, Pennsylvania)

East Texas Bombers (Tyler, Texas)

Florida Rollergirls (Daytona Beach, Florida)

First Coast Fatales (Jacksonville, Florida)

FOCO Girls Gone Derby (Fort Collins, Colorado)

Fort Wayne Rollergirls (Fort Wayne, Indiana)

Gem City Rollergirls (Dayton, Ohio)

Gotham Girls Roller Derby (New York City, New York)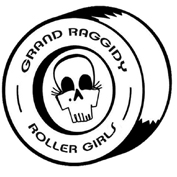 Grand Raggidy Roller Girls (Grand Rapids, Michigan)

Grand Strand Roller Girls (Myrtle Beach, South Carolina)

Greater Illinois Rollergirl League (G.I.R.L.) (Central Illinois)

Green Country Roller Girls (Tulsa, Oklahoma)

Hard Knox Roller Girls (Knoxville, Tennessee)

Harrisburg Area Roller Derby (HARD) (Harrisburg, Pennsylvania)

Houston Roller Derby (Houston, Texas)

Hudson Valley Horrors (Kingston, New York)

Hurricane Alley Roller Derby (Corpus Christi, Texas)

ICT Roller Girls (Wichita, Kansas)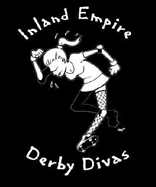 Inland Empire Derby Divas (Riverside/San Bernadino, California)

Jet City Rollergirls (Everett, Washington)

Kansas City Roller Warriors (Kansas City, Missouri)

Kentucky Roller Derby (Lexington, Kentucky)

L.A. Derby Dolls (Los Angeles, California)

Lava City Roller Dolls (Bend Oregon)

Lehigh Valley Roller Girls (Allentown, Pennsylvania)

Lilac City Roller Girls (Spokane, Washington)

Long Island Roller Rebels (Long Island, New York)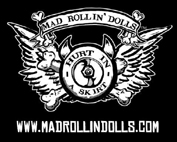 Mad Rollin' Dolls (Madison, Wisconsin)

Mason Vixxen Rollergirls ( Richmond, Kentucky)

Minnesota Roller Girls (Minneapolis/St. Paul, Minnesota)

Mississippi Rollergirls (Gulf Coast, Mississippi)

Memphis Roller Derby (Memphis, Tennessee)

Nacogdoches Rollergirls (Nacogdoches, Texas)

Nashville Rollergirls (Nashville, Tennessee)

No Coast Derby Girls (Lincoln, Nebraska)


NorCal Roller Girls (Chico, California)

North Star Roller Girls (Minneapolis/St Paul, Minnesota)

North Texas Women's Flat-Track League

NWA Rollergirls (Fayetteville, Arkansas)

Ohio Rollergirls (Columbus, Ohio)


Oly Rollers (Olympia, Washington)

Omaha Rollergirls (Omaha, Nebraska)

Orange County Demolition Divas (Orange County, California)

Orange County Roller Girls (Orange County, California)

PA Roller Derby (Chambersburg, Pennsylvania)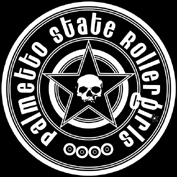 Palmetto State Rollergirls (Myrtle Beach, South Carolina)

Penn Jersey She Devils Roller Derby (Philadelphia, Pennsylvania)

Philly Rollergirls (Philadelphia, Pennsylvania)

Pikes Peak Derby Dames (Colorado Springs, Colorado)

Pioneer Valley Roller Derby (COED) (Northhampton, Massachusetts)

Pocono Highrollers (Bangor, Pennsylvania)

Port City Roller Girls (Stockton, California)

Providence Roller Derby (Providence, Rhode Island)

Queen City Rollergirls (Buffalo, New York)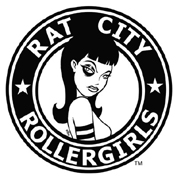 Rat City Rollergirls (Seattle, Washington)

Red River Rollergirls (Alexandria, Louisiana)

Red Stick Roller Derby (Baton Rouge, Louisiana)

Renegade Rollergirls (Phoenix, Arizona)

Ring City Roller Derby (Greenville, North Carolina)

River City Rollergirls (Richmond, Virginia)

River Valley Rollergirls (Fort Smith, Arkansas)

Rock Hard Rollergirls (Little Rock, Arkansas)

Rocketbetty Bruisers (Long Island, New York)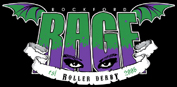 Rockford Rage (Rockford, Illinois)

Rocky Mountain Roller Girls (Denver, Colorado)

Rolling Thunder Derby Dames (Omaha & Council Bluffs, Iowa)

Rose City Rollers (Portland, Oregon)

Rubber City Demolition Dolls (Akron/Canton, Ohio)

Sac City Rollers (Sacramento, California)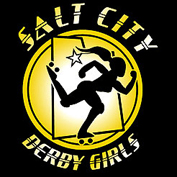 Salt City Rollergirls (Salt Lake City, Utah)

San Diego Derby Dolls (San Diego, California)

Savannah Derby Devils (Savannah, Georgia)

SEMO Rollergirls (Cape Girardeau, Missouri)

Sin City Rollergirls (Las Vegas, Nevada)

Smog City Roller Grrls (Fresno, California)

South Texas Rollaristas (Harlingen, Texas)

Steel City Derby Demons (Pittsburgh, Pennsylvania)

Switchblade Rollers (Clarksville, Tennessee)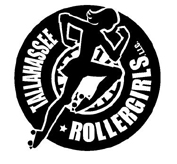 Tallahassee Rollergirls (Tallahassee, Florida)

Tampa Bay Derby Darlins (Tampa Bay, Florida)

Texas Rollergirls (Austin, Texas)

Tornado Alley Rollergirls (Oklahoma City, Oklahoma)

Tragic City Rollers (Birmingham, Alabama)

Treasure Valley Rollergirls (Boise, Idaho)

T-Town Derby Girlz (Sand Springs, Oklahoma)

Tucson Roller Derby (Tuscon, Arizona)

Twin City Rollers (Minneapolis-Saint Paul, Minnesota)

TXRD Lonestar Rollergirls (formerly BGGW) (Austin, Texas)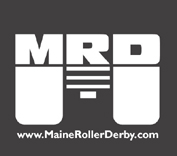 Vacationland Vixens (Portland, Maine)

West Palm Beaches (Palm Beach, Florida)

Western New Jersey Outlaws (Morristown, New Jersey)

Wilmington City Ruff Rollers (Wilmington, Delaware)

Windy City Rollers (Chicago, Illinois)

Wreckin' Rollers (Chicago, Illinois)