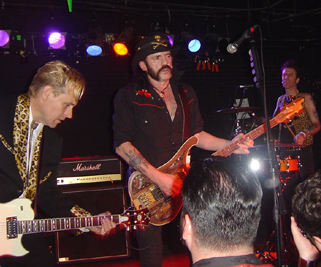 The Head Cat
El Corazon

Seattle, WA

April 12, 2007

Words & Pix By Cheryl
(SugarBuzz Seattle)
SugarBuzz Magazine
Say you are a successful rock n roller and you want to "mix it up" with a side project. Wouldn't it be cool to put together a band where you play only the music of your early, formative years? For my thirty-something peers, that would sound something like Scorpions meets Soundgarden with some domestic keg beer thrown in. For three long-time rockers, their vision is The Head Cat: a recent collaboration of Lemmy Kilmister (Motorhead), Slim Jim Phantom (The Stray Cats) and Danny B. Harvey (Rockats, 13 Cats, Lonesome Spurs) playing a fuzzed-out rockabilly mix of Chuck Berry, Buddy Holly and Elvis covers… or, as Lemmy so eloquently described it as, "the shit that got me started."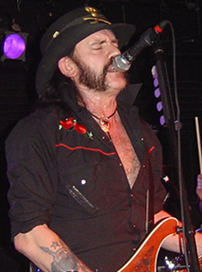 "Really?" was my initial response to this notion of their live performance at Seattle's El Corazon. But hell, I can't pass up a Lemmy encounter!

The crowd could be best described as diverse: a mixture of pompadour'd greasers, punks, long-hair rockers, Gypsy Joker bike gang members, benign pedestrians, a few junkies/crack heads, and then a handful of couples who heard there was a rockabilly show and wanted to try out their swing dancing skills recently acquired on a Caribbean cruise. I was fascinated by the trashed rockabilly girls who spent an inordinate amount of time fussing over their retro outfits and comparing Bettie Page tats in the bathroom.

The Head Cat started in with the likes of "Go Johnny Go", switching it up to some Carl Perkins which inspired lots of innocent, sock-hop grinning and head-bobbing from the crowd. Slim Jim Phantom took the drums with his unique stand-up style. On guitar, Danny B Harvey casually circled and hopped around in his cheetah-print blazer.

Lemmy traded the bullet belt for a bolero tie as the bluesy balladeer, lubricated by whiskey (and gravel) in CCR's "Susie Q" and Eddie Cochran's "Something Else", then skillfully takes on the harmonica in "You've Got Me Dizzy". In the beginning, I can't help but think how out of place he is. However, considering Lemmy (born 1945) was a teenager at the birth of rock n roll, it makes sense. Their rendition of Johnny Cash's "Big River" drove the notion home.

Our ears were then bestowed a song from Lemmy's "to-be-released-someday-before-I-die" solo album of similar 50's vein. Some guy from the crowd yells at the top of his lungs "Don't fucking die, Lemmy!" not unlike one might yell, "Play Freebird!"

Close to the end of the set came the inevitable Stray Cats tune, "Rock This Town" where the crowd went crazy dancing and sharing multiple beer-sprays.

After a short pause, the three song encore included Elvis' "That's Alright", but sadly, no "Ace of Spades".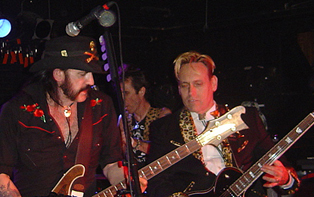 To quote Lemmy, "The only time I've seen any rebellion was in the fifties, sixties and early seventies. The rest of it you can keep." The oldies of The Head Cat may not have universal appeal and can downright confuse garden-variety Motorhead fan, but you can't argue that these guys have certainly seen it all and are having a helluva ball with this project. Just think… you could see Maynard James Keenan covering Quiet Riot at some point in the future.

http://www.myspace.com/headcat