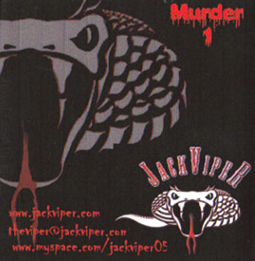 Jack Viper

Murder 1

By Lucky
(SugarBuzz Hollywood Bad Boy)
SugarBuzz Magazine
It's time to rock out with your cock out as London UK mother fuckers Jack Viper unleash an all out EP assault entitled Murder 1. Putting the sleaze back into rock and kicking the shit out of whiney wimp ass bands, this foursome of street smart deviants delivers the goods that will have rock junkies in fix heaven.

"Go Fuck Yourself" or "G.F.Y." is destine to be an anthem among whisky swilling flash rocking bad asses worldwide. Upping the ante in the rock and roll casino, this song features humongous power backups, way cranked guitar and attitude plus. First times a charm as you will be hooked. Line and sinker.

Last gasp for H20 cause "Walk the Line" will take your breath away. A sauntering swagger of positivity (is that a word?) Jay R snarls and growls while the woofer breaths new life courtesy of Mister Kiss.

"Blown Away" is what you be due to this killer cut. Wall of Marshall howl entices you into the power circuit. Then all hell breaks loose. Gravel rough vocals plow. Fist in the air boogie at no extra charge.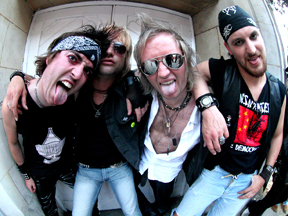 A high stepping "Murder City Blues" is like ZZ Top with 120 volts of electricity up there ass. Non stop sonic soar, "the stakes are high" and Jack Viper is truly playing to win. The blues were never so fucking happy. Eddie Shredder's fret work shines bright and the pick up frantic pace is commandeered by The Ferlanger's skins.

Cum and get it!
http://www.myspace.com/jackviper05