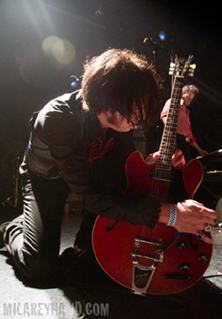 Jim Jones Revue
El Rey Los Angeles
By Lucky
(SugarBuzz Hollywood)
Photos by Mila Reynaud
SugarBuzz Magazine
"Rock and Roll is here to stay" – David White

"I got the rockin' pneumonia and the boogie woogie flu" – Huey "Piano" Smith and John Vincent

"You can't kill rock 'n' roll; it's here to stay" – Ozzy Osbourne

"Rock 'n' Roll, Hoochie Koo, lawdy mama light my fuse, Rock 'n' Roll, Hoochie Koo, truck on out and spread the news" – Rick Derringer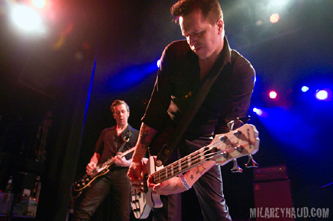 I think it is safe to say I am late with this review. Strange and possibly supernatural events interceded, intervened, and interrupted the creative process. In the days that followed this night of elation, I lay on the bed awaiting the angel of death. "Experts" were brought in to diagnose. General, holistic and guru practitioners could not alleviate. "Specialists" went back to the drawing board. The witchdoctor ran in fear of his life. Only the last ditch exorcist obtained desired results. Possessed by spooks and specters only enforced the old adage; rock and roll is the devil's music.
Those hard living, bad ass London boys collectively known as Jim Jones Revue hit the colonies for a lickity split mad dash across the states. This time round they torn down the El Rey Theatre in Los Angeles, a barn dance turned barn burner.
The ground opened up and the building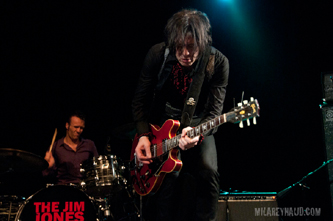 shook as Jim Jones Revue commenced the Lazarus with the Little Richard classic "Hey Hey Hey Hey", yeah it wakes the dead. The Band was super loud, and of course, standing right up smack against the stage does not help any.
"Dishonest John" off of that new Jim Jones Revue CD "Burning Your House Down" (still trying to find this in the USA) had the hell bound hop a quaking and a shaking. Drummer man Nick Jones packed a wallop precursor to the thunder.
Good Lord Almighty, my feet have flown asunder when the ivories injected "Rock and Roll Psychosis". Riled up and reeling Jim Jones incited modern day mayhem. "Abandon ship my ass". I am going down with it.

So let it be said I was missing Elliot Mortimer, Jim Jones Revue piano man whom bowed out due to the hectic schedule and I am sure other personal reasons. As his shoes are really difficult to fill, the band is using three different players until a suitable permanent is found. For the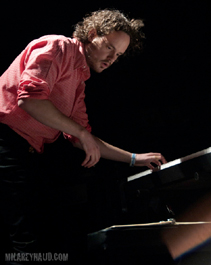 US dates, Jim Jones Revue was accompanied by Andrew Higley from Nashville. Andrew was wide eyed the whole show, kind of like going, "Holy Shit". I was right there with him. Gotta say they guy kicked some keyboard ass!
My temperature started to rise as "Another Daze" rollicked with that sultry entice. A fiftyish rock cliché dreamboat delivered with the herky jerky twitch that drew us to the sinister sideshow of sin.
Jim resonated "High Horse" sounding like a demonic Elvis back from the grave. Real deal intensity caused an infectious bacterial to spread the rock into my roll. Rampant elation diverged throughout the joint and even the timid run amok.
The rolling tremor tempo of "Shoot First" had the ladies in attendance sashaying the swoon. Fine looking ladies like them some Jim Jones. Rupert Orton, laying the lowdown, made our heads spin and our ears pop with tube screaming sendoffs.
The rock and roll revival continued with blazing hot renditions of "Burning Your House Down" and "Cement Mixer". I thought a ton of brick hath fallen. Clearly captivated by the now, I felt a transformation begin to take hold. An intimate atmosphere prevailed on this particular, with Jim and the boys joshing with the crowd, letting down the "guard", breaking down the "wall". It made us feel more like friends than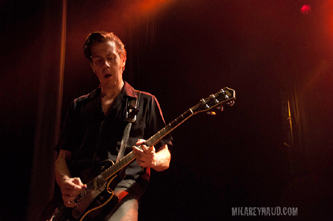 fans.
"Who's Got Mine" sent shivers up the spine as all inhibitions were cast aside. Complete abandon prevailed in my mind, so is the way of the Jim Jones Revue. It makes you want to move! And so it was, heaven help those in the way.
The legs began to wobble as the wreckage continued with "Killing Spree" and "Premeditated". Do you think Jim is trying to tell us something? Would make a good "Dexter" soundtrack I'm a thinking.
The shuffle on down of "512" was bringing it close; ready to drop I kept rocking strong. So was the band as they seemed to have tapped into a source of endless energy that they somehow emanated to the crowd. Jim quipped about what we'd all be doing tomorrow. Recovering was on the top of my list.
Close to oblivion, yet encouraged on by some foreign force or foe, I rejoiced in the world's longest encore. We blew the "Fog Horn", got a piece of "Big Hunk O' Love" and hung with "Big Len".
Let's talk Nick Jones. It has occurred to me that Nick is an exceptional musician with an aura of the legendary drummers of the skiffle, beat and English R&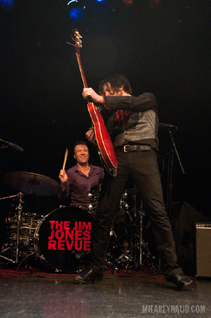 amp;B eras. Always on the mark he exudes a stage presence lacking in most that get lost behind their kit. I bet he'd even hold up well in a jazz ensemble or big band setting. Top notch!
The destruction continued with a riotous "Elemental" and wrapping it up in one chaotic package was the tune that started my love affair with this band, "Princess and the Frog". Last man standing, I laid in wait for the band mates to venture forth from the backstage area. We all had a nice chat and I can say to you that these guys are genuinely the real deal. It wasn't until I got home that I realized I was not quite right, out of my proper facilities. "Good God" the old lady exclaimed, "You've got the rockin' pneumonia and the boogie woogie flu". And so it goes.
www.facebook.com/thejimjonesrevue