Michael Monroe
"Sensory Overdrive"
By Geordie Pleathur
(SugarBuzz Nation)
SugarBuzz Magazine
"BORN TO RUN..."

I loved the Hanoi Rocks comeback hit, "People Like Me", and the ballad, "Center Of The Universe", but I was never completely sold on the later line-up's. Now, he's gotten this devastatingly brilliant super group solo band all tuned up and ready to roll, Monroe seems thoroughly reenergized, like he's been sippin' from the fountain of truth, his cup runneth over, with all the good vibrations, and his sunny optimism is beaming from his youthful smile, and it's nice to see the old hellcat overcoming the hard luck, and brutal losses, 'this demon life's thrown his way. I think I'd still be nursing my wounds, crippled with self-pity, but he's stomped off all the dust, and everyone who has seen his band live, has come away over-awed, and eager to testify. Who can even rival this cosmic ted, when he's got a solid band behind him? Idol? Iggy? The Stones?

Demolition 23 were the best punk band I heard since the late seventies, and the new Michael Monroe single, "78", is a rousing, robust, oi shouted from the rooftops, or curbside with a bottle in a brown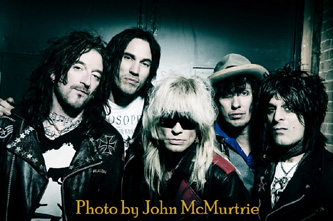 bag-style, sing-along, in the noble streetfightin' tradition of AC/DC and Sham 69. An instant classic, along the lines of Demolition 23's "Hammersmith Palais"!

Before joining Michael Monroe, the talented songwriter, Ginger, had graduated from the Quireboys, was expelled by the misguided Throbs, and wowed the whole world, with the Wildhearts, and you can instantly feel how his own super-pop sensibilities compliment Michael's classic punk'n'roll songwriting--lots of breathtakingly gorgeous bridges, cool harmonies, sweet introductions, big snarly riffs, and vibrant choruses are heard throughout, "Sensory Overdrive", along with Michael's trademark harmonica. Awesome. Legendary Aerosmith producer, Jack Douglas, did a fine job, on this wax pizza. It sounds mammoth, but it's still, appropriately, dirty, and D.I.Y. low-fi sounding, or warm, in various parts, depending on the song, the arrangements are all stellar, I imagine this disc sounds absolutely grandiose, banging out of the speakers of an expensive stereo, I can tell you it sounds extraordinary, on my cheap ass, Goodwill boom-box. If you liked the Billy Idol comeback album, from a few years ago, with all the bubblegum-pink, summery pop anthems, like the lost Generation X tune, "Cheri Runaway", make sure to buy the new Michael Monroe, because it has a similar vibe, and appeal. This is the full spectrum, major league sound, that Michael Monroe's music has deserved, all throughout his solo career. It's gratifying to see him working with a solo band and producer, who can stand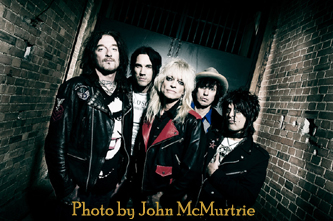 and deliver, at his level. I can't imagine what the new Van Halen will sound like, but it will be hard for them to measure up to a song as fantastic as, "Superpower Superfly". It's like vintage E Street Band, being given the space-age Futurama treatment by intergalactic whiz-kid/sci-fi rocketeer, Ginger, who similarly, co-created that gleaming, and masterful, ultra-pop tribute to all the silvery Sigue Sigues from Mars, slouchin' around downtown, with his friend, the Spuntnik surf-guitar genius, Neal X, a few years, back. This song is close to perfection. If I was Douglas, I mighta nixed the half-baked, "Shut Up!" chorus, on another song, because it's just unworthy of the message Mike's intending to send on his biting critique of the fast-paced, new-media streams in the Brave New World/Orwellian robot-age, of "Modern-day Miracle". It's a minor distraction, sounds like grating rap-metal, for a minute. Rehashing Faster Pussycat's worst song is beneath these intensely-capable, amphetamine-punk royals. "Bombs Away" is another barn-burner, you can tell our heroes are all chompin' at the proverbial bit, jonesin' to hit the road, like proud Kentucky race-horses, buckin' and braying, at the starting-line.

Some angry, sour-pussed, cynics, might not have the ears for some of Michael's newest lyrics, that are sometimes, gushing with positivity, like a reborn Little Richard, or the platitudes of a daily affirmation calendar, but with all the nearly-unprecedented, adversity and grief, he's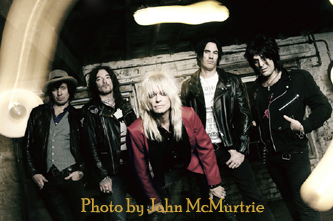 endured and heroically risen above, one can hardly blame him for wanting to share his enthusiastic, and fully renewed, lust for life, with his loyal fans. The recovery community preaches, that "to keep it, you have to give it away". So gloomy-ghosts, be warned. As usual, his sax-playing bleeds soulful majesty. His saxophone on "Life Won't Wait" is as beautiful, as seventies Bowie. "Loneliness Loves Me More" was one of my very favorite songs of the last two decades. He's the man. I wish he would have gone in a more Clash-like direction, on some of this, because many of his more overtly political songs, like, "Scum Lives On", "Man With No Eyes", and "While You Were Looking At Me" were always so inspirational, and full of revolutionary, Sex Pistols insight. I'd like to hear more Mad Juana style musical exploration and more Stiv Bators streaked, socially-conscious lyrics from this crew. They ought to play some shows with Warrior Soul.

"Gone Baby Gone" is so luminous, it'll make ya squint at the dazzle. A nice one, boys, is that Ginger, or Steve Conte, playing that yearning, cowboy lick, shades of Keith? "Gone Baby Gone" is probably my fave song on the album. It's a bit Burrito Brothers, almost. Makes ya wanna get a Nudie jacket tailor-made, as if I needed another excuse, kinda like the Laurel Canyon cowboys from way back when. Cactus and Sarsaparilla. I think the die-hards have all got mixed feelings, we were a little split, about Sami Yaffa and Steve Conte having to leave the NY DOLLS, to manifest destiny, with Michael Monroe. From my view, from down here in the star dusted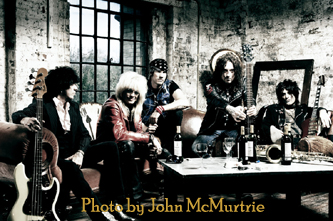 gutter, it seems like a happy ending for everybody.... I love the music David Johansen and Sylvain Sylvain are making. It's subtle, understated, melancholy, definitely not a loud guitar orgy, but ya ain't always in the mood for Jerusalem Slim, ya know? All the Thunders fans who moaned that Willie Deville side-man, Steve Conte, was too studio-slick to stand on Johnny's side of the stage, have to be flabbergasted to see Earl Slick(!) now standin' in. That's a tough gig, baby. Johnny Thunders is a beloved icon. A Patron Saint of something. Can we just say emotive, heart on his sleeve, guitar playing? Anyways, we, here at Sugarbuzz, still wish each and every one of these diamond geezers, all the best. Some of you will see the NY DOLLS on tour, with Poison, this summer. Meanwhile, Michael Monroe, and his hand-picked company of dynamic wolf-kings are rising....like the unions of Wisconsin, like the people of Egypt, like the burgeoning people's movement here in the U.S.A.! it's about time they reclaim their rightful place in real rock'n'roll. How about a tour with Cheap Trick? Shine on and on, ye ageless glam rock super heroes. We love ya.


P.S. please cover "BORN TO RUN..."

www.michaelmonroe.com
www.undergroundgarage.com
www.youtube.com/watch?v=4uwttEnZjqs
www.codepink4peace.org
www.reformthepatriotact.org
SugarBuzz Magazine