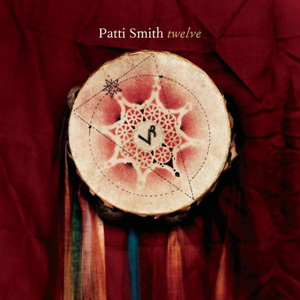 Patti Smith
Twelve
By Laurie Smith
(SugarBuzz New Jersey)
SugarBuzz Magazine
Patti Smith's new release, "Twelve" is a cover album with a surprising change of style for the sixty one year-old rock and roll poetess. Smith's recent induction into the Rock and Roll Hall of Fame on March 12, 2007 as well as her last performance at the closing of CBGB's in New York City in October of 2006 was just a prelude for more great talent to come from this artist.

Smith, known for her poetry and eclectic ways, reminds me of Janis Joplin or Joan Baez. Although she was given the title, "punk rock's poet laureate", her true origin is one of a rock and roll artist.

The twelve tracks on the album are a compilation of songs that Smith wanted to tackle many years ago, but left on the back burner until the time was right. In 1970, Patti met Jimi Hendrix at the Electric Lady Studios, where she recorded, "Are You Experienced" with Lenny Kaye, Jay Dee Daugherty and Tony Shanahan.

Patti also embarked on her spiritual side by singing the Beatle's song, "Within You Without You". Smith admired George Harrison and was curiously drawn to the doctrine of Dharma. This parallels Smith's own quest to bring peace to the world with love.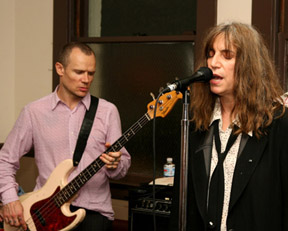 Tears for Fears, a 1980's pop song, surprisingly made an appearance in this album with "Everybody Wants To Rule The World" based on Smith's concern about global issues. I believe one of Smith's goals in this album is to bring awareness to the public about their own part in taking action regarding global problems and perhaps becoming active instead of passive.

Gimme Shelter, by The Rolling Stones is another anti war news flash that reverberates flashbacks from the Vietnam war era. Only now, it symbolizes the current situation of our world. Smith has a few more poetic lines added to the end of this song, emphasizing the disgrace to our children, the innocent victim's of world leader's mistakes.

Jefferson Airplane's "White Rabbit", was Patti's salute to her idol, Grace Slick. "Smells like Teen Spirit", by Nirvana may have been delivered in the nineties, but the song, as Kurt Cobain did, indeed have an old soul. Banjos and fiddles were incorporated into this melody giving it an almost folk-like sound.

Bob Dylan's "Changing of the Guards" was one of Smith's most challenging songs. Many of the songs, such as "The Boy in the Bubble" by Paul Simon, "Pastime Paradise" by Stevie Wonder and "Soul Kitchen" by the Doors take us back to a place in time where people all joined together and united to bring peace to the world.

All in all, "Twelve" is not just an album for Patti Smith fans.

http://www.pattismith.net/intro.html
http://www.myspace.com/pattismith