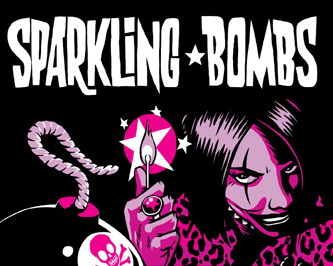 Sparkling Bombs
By Geordie Pleathur
(SugarBuzz Nation)
SugarBuzz Magazine
SWINGING THE HEARTACHES IN THE SPARK CARNIVAL!

WOW! Hey, kids, rock'n'roll! I'm sorry to confess that America does not have bands this good, anymore. The SPARKLING BOMBS are tantalizingly alive, French glamsters, bubblegum-sinners, with total power-pop hearts, exceptional guitar heroics, and a glossy, new wave sheen. I never expected a new band like this, to be so sexy, so groovy, so utterly listenable. This is fabulous radio music from another time. Lush, spooky, synth pop songcraft from the late night bar. Really catchy, sweet, gum smacking, heartbreaking music with poetic imagery about innocence corrupted, poisoned love, pop culture kidnapped, the decay of the after hours lifestyle, nostalgia for an opium dream of "Velvet Goldmine" color, drama, sedition, and romantic danger.
I love the fey, sleazy vocals-beautiful harmonies, some lyrics cadged from my ole faves, Flesh For Lulu...I think I hear glints of Imperial Drag, Bowie, Adam Ant's plastic-glam,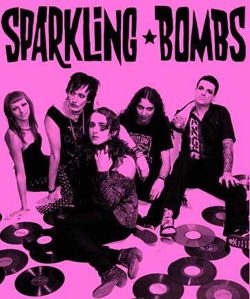 retro-punk hits like, "Vive Le Rock", Morrissey, Psychedelic Furs, and all the sugary, one hit, keyboard bands from the new romantic era.

Duran Duran should take SPARKLING BOMBS on tour! This is WAY better than the big-budgeted Killers, or Dandy Warhols. I like Sparkling Bombs a lot more than the theatrical, nineties glamsters, from the Brit-Pop era-like Suede, and Placebo, too. Deliciously hedonistic glitter pop, you'll find yourself listening to "Spraypaint Prayers", again and again. Younger people tuned in to the T.Rex frequency, will love playing these songs while they primp in the mirror, sipping fruity cocktails, applying their eyeliner, getting ready to go to the niteclub.

Guitarist Lady Bittersweet's a glamtastic femme fatale...Their stylish drummer Laurent, has impeccable taste in real rock'n'roll, and oversees one of the hippest fanzines, on-line, Veglam Dot Com, covering the trashy glam, and sleaze punk underground, worldwide. I don't usually give a shit about new bands, cos so few have anything to offer in the way of intelligence, style, soul, or hot emotion. The last band I loved this much was probably, SILVER. I still groove to their "White Diary" C.D. from five years back, and yeah, I liked a couple of Kaiser Chiefs tunes, but that was already years ago. Sparkling Bombs borrow liberally from many of the top influences-Roxy Music,Queen, Adverts, Marc Almond, but somehow, they make it all seem fresh and vital, again.

Guitar sounds like Marco Pirroni, the Church, Thunders, or even Steve Stevens on the first solo Billy Idol record. Cool, slinky, bass-lines ala Sisters Of Mercy, Sigue Sigue Sputnik, or Lords Of The New Church. Wonderful

songwriting, a sleek image. These guys are ready for the Top Of The Pops.

Sparkling Bombs make you wanna immigrate to France. They even throw in an amazing, passionate rendition of Manic Street Preacher's "Motown Junk"! I am honestly, shocked and awed by how boss the Sparkling Bombs are. I was expecting something along the lines of, oh, say, the Soho Dolls, or Nancy Boy, but they exceeded all my expectations with their under-stated, Hanoi Rocks stylishness, wide awake anthems, jaded seductions, and glistening, power-pop excellence! I'd non-chalantly slapped "Spraypaint Prayers" on, as wallpaper music, while I was in the midst of my morning rituals and household chores, but they totally grabbed my attention, sucked me in, and easily won me over. If you liked SILVER, or SEMI-PRECIOUS WEAPONS, you'll likely, love the SPARKLING BOMBS. (-Geordie Pleathur)

www.myspace.com/sparklingbombs