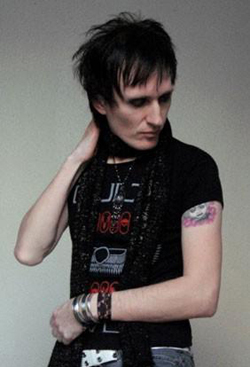 Laurent
Sparkling Bombs
By Geordie Pleathur
(SugarBuzz Nation)
SugarBuzz Magazine
"WAIFS AND STRAYS....." THE SUGARBUZZ INTERVIEW......Geordie Pleathur Interviews LAURENT, from FRENCH GLAMOUR POP SENSATIONS, THE ALWAYS FASHIONABLE, TEEN HEART THROBS OF SPARKLING BOMBS!!!!

"Subterfuge Orwellian Double-Speak
So much bullshit, everywhere I go,
Amazing how many things there are, that aren't so,
in a punishing world, incredibly punishing world...(-David Johansen)

"America is the only country that went from barbarism to decadence without civilization, in between..." (-Oscar Wilde)

"Democracy! Bah! When I hear that word, I reach for my feather boa!" (-Allen Ginsberg)

"Dying is an art, like everything else. I do it exceptionally well. I do it so it feels like hell. I do it so it feels real. I guess you could say I've a call...." (-Sylvia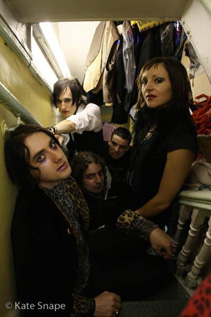 Plath)

"Corporate America's domination of the news media eclipses the meaning of a free press doctrine. Mainstream America has been presented a false sockal, political, and economic reality supported by a consensus among the self-serving elite." (-Dennis Kucinich)

"There are no constraints left to halt America's slide into a totalitarian capitalism. Electoral politics are a sham. The media have been debased and defanged by corporate owners. The working class has been impoverished and is now being plunged into profound despair. The legal system has been corrupted to serve corporate interests. Popular institutions, from labor unions to political parties, have been destroyed or emasculated by corporate power. And any form of protest, no matter how tepid, is blocked by an internal security apparatus that is starting to rival that of the East German secret police." (-Chris Hedges)

WAIFS AND STRAYS.....

Laurent, from SPARKLING BOMBS, is the impeccably attired, androgynous drummer of the glammy, French, synth-fop darlings, SPARKLING BOMBS, who defiantly, continue to fly the tattered flag for theatrical, emotional, epic glam, ala Suede, old Diamond Dogs/Thin White Duke-era Bowie, "New Art Riot"-era Manics, Specimen, Elastica, Placebo, the snarling Slade/Mott side of Morrissey and the Smiths, etc. Their urgent, arena-anticipating, sensual, rock music is more than just a breath of fresh air, in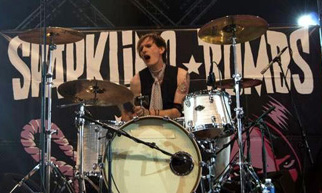 this agonizingly gilded-age of unlistenable, painfully banal, tepid and formulaic, corporate-radio abuse. "SPRAYPAINT PRAYERS" is a youth-quaking, tornado, spiriting all the young dudes away to silver factories, in Emerald Cities long forgotten, for deviant, dervishing, A:M kicks, in the red-light district of eternal black leather/amphetamine cool. SPARKLING BOMBS cut dashing subterranean profiles, casually emanating dangerous, speed-freak aggression, with "Flaunt It" pursed lips and cynical, rent-boy detachment. These vinyl-clad seditionaries are jaded throwbacks to when rock'n'roll really mattered, before it was seldom played, and sadly reduced to a mere marketing-tool, only ever, exploited by nefarious international monopolies, to advance the imperialist agendas, of the share-holding, evil elites. The Sparkling Bombs music even smells like the street...there's a bar at the end, where I could meet you and your friend...They're livin' out Guy Peelaert's dreams...Downy sins of streetlight fancies...Ermine furs adorn the imperious...While listening to their latest silvery side, "SPRAYPAINT PRAYERS", you keep lookin' around for Nico and Edie...or at least, Yana
Ya-Ya....'Wonder if she's holdin'...

BEAUTIFUL LIKE A MOLOTOV COCKTAIL...

Laurent's also the enigmatic, wizard of ahhh's, behind the editorial curtain of VEGLAM MAGAZINE, which has gotta be one of thee most astonishingly swank, underground rock'n'roll magazines on-line, (along with The I-94 Bar, Sons Of Dolls, Sleazegrinder, Punk Globe, SleazeRoxx, and...but of course, visions of SugarBuzz dance in your heads...) His well-tailored rock group, five fur-coated Freddy Mercurys, latex-urchins, the fantastic stars of SPARKLING BOMBS, are one of the best young glam bands in the world, equal parts Baudelaire and Marc Bolan. Their lead rockstar, Alyss, takes cues from Marc Almond, Brett Anderson, Jobriath, and Martin Degville, with even, a bit of that sinister, slithering, seventies, Alice Cooper Band thrown-in, for extra-added, after-hours, raunch. Masterfully utilizing cheap electronics, and Ronsonesque guitar flash, like Neal X, or Andy Taylor from Duran Duran, electric warriors, JOKER, and LADY BITTERSWEET, pile on avalanches of thundering guitar riffage, complimented nicely, by M.A.T.T.'s hypnotic, Sisters Of Mercy-like bass-lines, and Laur's snaky, whip crack dance rhythms, that flavor their powerful, new-romantic, noir-pop sound, at once pompous, and seedy, brimming over with drag-queen melodrama, seductive imagery, and space-aged dandy finesse... Sparkling Bombs' video-consciousness, high-gloss disco/night-club sensibilities, and semi-inventive, sleaze-punk melodies inspire a new generation of much too precious club kids; cross-dressing, speakeasy-frequenting, nightmares in wax; and preening, post-punk, post-glam, post-pose, modern romantics to carefully apply their oil-spill eye-liner, and glittery lip-gloss, and back-comb their glam shags, for nocturnal misadventures in secret places, only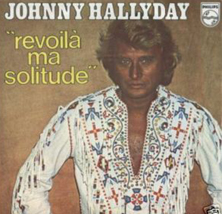 known to glam-punk gutter-snipes, and erotic politicians like, SPARKLING BOMBS! I'll keep lobbying the MANIC STREET PREACHERS to take Sparkling Bombs, and the Soho Dolls, on tour! Recently, I had the occasion to chat with the very hip and stylish Laurent, about all that glitters, and here's that very exchange, for your decadent pleasures....

SUGARBUZZ MAGAZINE: First record you ever bought and where did you geddit?

LAURENT: First rock album I got , was "Rock'n'Roll Over" by KISS, when I was 7 or 8, but I think I had a couple of singles before like, "Dirty Livin" (KISS - I saw the "I Was Made For Loving You" cover on a wall at my cousins', and it just fascinated me, so glittery and magic), "I Love Rock'n'Roll" (Joan Jett & The Blackhearts - my first celebrity crush!) or "L'Aventurier" (Indochine - French Cure copycats.) Oh, and speaking about French music, I also remember I had a Johnny Hallyday live album (I remember I asked my mum to buy it for me 'cause I liked his sparkly white Indian-ish outfit on the cover photo, I didn't care about the music.)

I got these records in supermarket kinds of stores since I was too young to be familiar with record shops yet.

SUGARBUZZ MAGAZINE: Who were the best French rock'n'roll bands we may not be hip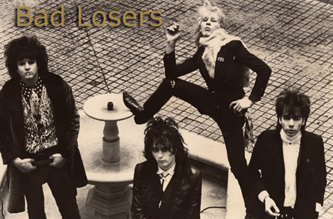 to, in the States? Do you like the Bad Losers?

LAURENT: I love the Bad Losers! The funny thing is that I found out about them just a few years ago and just found the vinyl album last year. I had to order it in Italy since it's quite hard to find in France!

The Dogs were a great band too, they toured in the States and singer/guitarist Dominique Laboubée died on stage in Massachusetts (talk bout dedication!)

I also liked bands such as Tears or Teasin' Babes in the early 90s glammed-up Paris but these bands only released demo tapes.The Neurotic Swingers were cool too but sadly split up a couple of years ago.

There's still some decent stuff goin' on here but nothing groundbreaking. I can listen to a lot of stuff but I'm really picky when it comes to my personal music choices.

SUGARBUZZ MAGAZINE: Who were your favorite "Brit-Pop" groups? Who inspired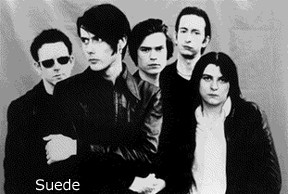 you to form the 'Bombs?

LAURENT: Suede! They were the ones with the most glamourous class and best songs.

Actually, Suede inspired us since Alyss and I especially loved them. Other bands that inspired us when we began were the New York Dolls, The Sex Pistols, the Manic Street Preachers (that can be seen as a Brit-Pop band by some, but I got into them when Richey was in, and when they were this Clash/early Guns N' Roses, situationist- influenced kind of band)... We also liked what was goin' on with newer bands at the time, like Backyard Babies, or Sugar Shock. I guess that bands like Social Distortion, or The Cure, also influenced us, to an extent. Our influences have always been an adventurous mix of early punk rock, 70s glam rock, new romantic pop and 80s hard rock.

The movie, "Velvet Goldmine" was also a great source of inspiration.

SUGARBUZZ MAGAZINE: We dumb Americans are always referring to Sparkling Bombs as a "new" band, even though you've been an undergound sensation in Europe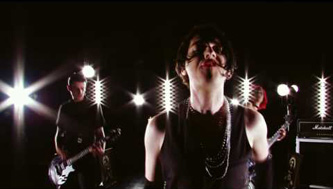 for quite a few years. Please discuss origins of Sparkling Bombs.

LAURENT: Well, technically, we are a new band in America, since we never had a real good distribution there (though we know that most people buying our albums on CD Baby are from America) and only toured on the West Coast once.

We started the band in 2001, I played with Joker in some punk hardcore band before and he wanted to come back to rock'n'rollin' stuff with Matt. They asked me to join and we tried a couple of singers and guitar players before we got introduced to Lady Bittersweet and before Alyss read our ad saying that we were looking for a glamourous singer.

I found the name using the old surrealist text/word cut-up technique.

SUGARBUZZ MAGAZINE: You achieve a world-class, major label sound. How do you finance your recordings?

LAURENT: Thank you! The band is actually self-financed for the most part. We never had any record label or such paying for our recordings. We just worked with Didier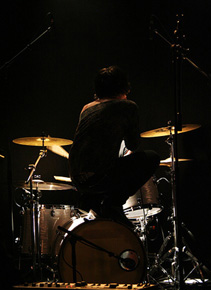 Houbre who knows the band quite well since he recorded us a few times before and has been witnessing the band's evolution as far as sound is concerned. He did a good job.

Nevertheless, we still feel that our recordings are far below our live performances but hopefully we'll find a way to come to this one day, but I guess it will be easier to get the funds by robbing a bank than finding the appropriate record label or suicidal patronage.

SUGARBUZZ MAGAZINE: Please Tell me something about each of your band mates....Do all of your rock'n'roll friends fall in love with "The Lady"?

LAURENT: Alyss is the seductive synth pop singer. The leader singer your little sisters are dreaming of.

Matt is the beer lover bass player. Always ready to get in a van, plug the bass and kick some asses.

Joker is the sergeant major punk rock guitar player. A war can't be won without the appropriate weapons or techniques.

Lady Bittersweet is the lead glitter guitar queen. Even the prettiest flowers can be poisonous. Of course everyone falls in love with her. What would be the point of having a girl in a band if they didn't? Haha, just kidding.

SUGARBUZZ MAGAZINE: What have been the highlights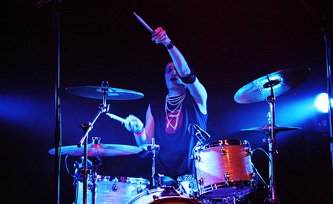 of the Sparkling Bombs experience, so far?

LAURENT: The U.S. tour! I've been to the U.S. before, but it was great to finally go there with the band, and play our music to American audiences. We got some amazing feedback, and met so many interesting people, most of them loved the Euro touch in our music. We even got asked to join a national tour with bigger bands, after a show in Hollywood, but we unfortunately, couldn't make it for financial reasons. How frustrating! The U.K. tours were great, too, 'so many British bands influenced us...

Other highlights include opening for bands we love like the New York Dolls, or the Lords Of The New Church reunion, as well as opening for the Offspring in front of 8,000 people.

SUGARBUZZ MAGAZINE: What was Brian James like?

LAURENT: Impressive! He still has this very personal way of playing his guitar... Almost magic! I was quite shy around him 'cause I've always seen him as this dark, deep, unapproachable, voodoo guitar player. Not the kind of person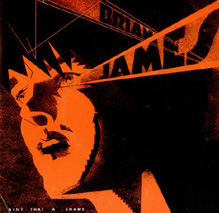 opening too easily, but you know the harder the packaging is to open, the more you get to appreciate what's inside. I usually don't feel too interested in people that are too easy to read through. I was also very happy to meet Dave Tregunna, since I've liked every band he's been part of! A real gentleman.

SUGARBUZZ MAGAZINE: Was the great Tony Fate still in the band when you played with the Bellrays?

LAURENT: No, he wasn't since it was in 2008. But this band is still a killer machine live!

SUGARBUZZ MAGAZINE: How was the Michael Monroe show? What was the best live performance you've ever seen?

LAURENT: Oh man, it was fantastic! I never had the chance to see Hanoi Rocks or any related projects before so this was something I was really looking forward to (especially with such a line-up! never seen Ginger played before too) They played lots of old Hanoi Rocks songs including "Motorvatin'", "Back To Mystery City", "Tragedy", "Malibu Beach", and personal favourite,"Boulevard Of Broken Dreams" that took a whole special new meaning to me that night. It's great when you see a band live and when they bring you so many memories about the things you felt, when listening to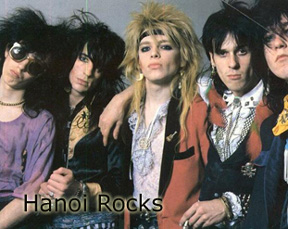 these songs, alone in your room, and how they helped you to deal with your own life, in one way or another... But it's even greater when you realize that these old songs can also bring you new things that you know you will never forget. They also played lots of Demolition 23 (fantastic album/band!) songs ("Nothin's Alright, "Hammersmith Palais", etc.), two new songs, two Damned covers, Johnny Thunders' "I Wanna be Loved" and U.K. SUBS' "Endangered Species" with Charlie Harper on guest vocals!

Michael Monroe is still one of the best frontmen ever to me, he climbed up to the balcony a few times, the security guys were flipping out!

So I'm glad to say that this show now fits right into my "best witnessed live performances' next to my first big show ever which was Mötley Crüe/Skid Row in 1989, the Manic Street Preachers in 1992, Nine Inch Nails in 2000, Aerosmith in 1990 and Fugazi in 1995.

SUGARBUZZ MAGAZINE: What did you think of the new Dolls records?

LAURENT: You know, I was very suspicious when I first heard about a New York Dolls reunion with key members missing. Then, I saw them live at Sunset Junktion in L.A, and I realized that even if it wasn't exactly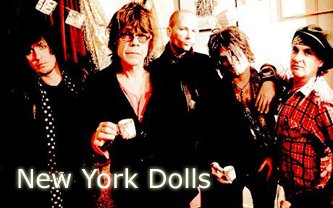 the same band anymore, it could work this way, too. The show captivated me, and even Pink, who was standing just next to me, didn't make me lose my attention to what was going on, up on the stage! It sure must not have been easy for Steve Conte to fill in Johnny Thunders' shining shoes but he's a top class guitarist who managed to bring his own thing to the songs, without changing them too much, at the same time, rather than trying to be Johnny. Hats off!

So then, I got the "One day it Will Please Us To Remember Even This" album, and enjoyed it quite a lot. You know, when we opened for them, Sami Yaffa asked me what I was thinking about the album and all, I just couldn't believe it, one of my favourite bass players ever, was asking for MY opinion on an album he played on!

The newer one, "'Cause I Sez So", is a bit harder to get into. I think my expectations were a bit too high, since I heard the single, "Cause I Sez So" and it literally blew my mind away, whereas, the rest of the album has a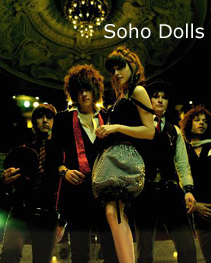 different mood/feel. But in the end, I like this album too.

I guess that if you accept the fact that the Dolls are not only the shocking New York band they were, when the first album was released, that times are not the same anymore, and that change is a natural human characteristic, then you can only still love the New York Dolls.

SUGARBUZZ MAGAZINE: Do you like the Soho Dolls? When will James Dean, or Nicky Wire wise-up, and take Sparkling Bombs and Soho Dolls on tour, opening for the Manics?

LAURENT: Yes, I do! They have good style, and I enjoy their electro-glam thing, like T.Rex, Goldfrapp, Gary Glitter, and Kylie jamming on Marilyn Manson's "Mechanical Animals". I also love what they did with Hanoi Rocks' "Dead By Christmas"! Their Lords Of The New Church cover is cool too! We don't sound the same, but from what I read/hear, it seems like people often associate us to them, or Rachel Stamp, for instance. I guess we all share common influences, and use them differently to make our own personal music.

Going on tour with the Manics would be a dream come true to me, since they are one of my favourite bands, the kind that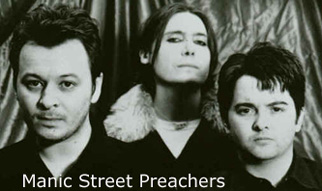 can make me smile, cry, love and hate all in one album, or even in one song sometimes, not many bands/artists can do this to me, Hanoi Rocks, David Bowie, Morrissey... You know I've never seen the Manics without Richey. Deep inside, I know I've been a bit afraid to, but I know I will eventually get over this, and see them, again.

SUGARBUZZ MAGAZINE: What's Andy McCoy doing, now?

LAURENT: I think he's working on a new solo album, with his wife on vocals. I remember I read about the band line-up, including a guy from the Foo Fighters, but all information disappeared from his website, and MySpace page, from one day to the other!... So let's wait and see. I still need to order his book now that it's available in English.

SUGARBUZZ MAGAZINE: The Soho Roses-where are they now?

LAURENT: I wish I knew! I remember one of the guys was on the Glitzinet board like two years ago, or something, and then, he got interviewed in "Sonic Ruin" fanzine, but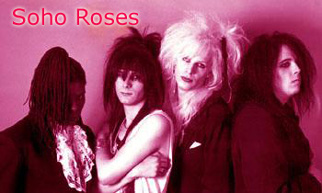 it seems like he then, disappeared again. The Soho Roses are an essential band to me, perfectly capturing the London vibe, in those days. I remember reading about them in a French magazine with a feature about the "underground British Glam scene" and I was immediately intrigued by them. Loved their name, look and song titles. I only got to hear them many years after that, but sure wasn't disappointed!

SUGARBUZZ MAGAZINE: Has Andrew Mattheson from the Hollywood Brats put out any solo work that you're familiar with?

LAURENT: Franckie (my Veglam mate) told me that he released solo albums, but I'm not familiar with them yet, so thanks for reminding me to try and check them out!

SUGARBUZZ MAGAZINE: Did you ever discover who is behind the marvelous "Sons Of Dolls" blogspot

?

LAURENT: No! And that's a weird thing, 'cause everyone into this style of rock'n'roll pretty much know each other in France, or at least know who makes what. I've asked Franckie (notice a pattern as where I get my info from! haha) and he just found a MySpace page that doesn't seem to be used much though: http://www.myspace.com/341204447

SUGARBUZZ MAGAZINE: DO YOU PREFER.....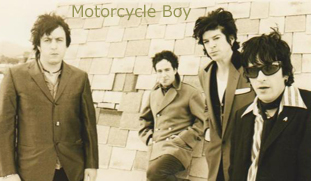 Jellyfish or Redd Kross?

LAURENT: I'll go for Redd Kross, as I'm not familiar with Jellyfish.

SUGARBUZZ MAGAZINE: Jim Jones Revue or Motorcycle Boy?

LAURENT: Motorcycle Boy... Though the Jim Jones Revue seems to be an amazing live band.

SUGARBUZZ MAGAZINE: Star Star or Stars From Mars?

LAURENT: This one is more than tricky!... Okay, I'll say Star Star 'cause I've been into them since "The Love Drag Years" and found out about Stars From Mars way later. Star Star's album was such a fresh sparkly bowl of air when it came out in 1992, injecting some 70s glitter and Rocky Horror influences in their music while the 80s scene had died out. Johnnie's vocals are so perfect in a glammy bubblegumish kind of way.

I wish Stars From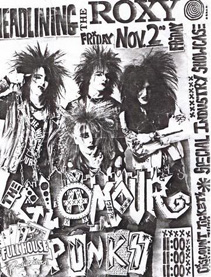 Mars could have become bigger. One of the most interesting Sunset Strip band to me both musically and visually. I got the chance to meet Kevin E. Starr a few months ago, through Gretchen Bonaduce, whom he's engaged to now. Wow! it was so great to talk about the Stars From Mars days! I also met Gizmo a couple of times, when he was in Rebel Rebel, but I had no idea he was in Stars from Mars, at that time!

SUGARBUZZ MAGAZINE: Glamour Punks or Heart Throb Mob?

LAURENT: Damn, you're killing me! I love these bands the same. I'll say Glamour Punks for the image and Heart Throb Mob for the songs (nice way to avoid entering in a deep conflict with myself!)

SUGARBUZZ MAGAZINE: Primal Scream or Diamond Dogs?

LAURENT: Diamond Dogs, because they obviously, had good taste with choosing their band name, but I still need to get more from them. Primal Scream is the kind of band that I feel divided about. I love their dancey Stones mix side but I'm not too keen on some of their more psychedelic stuff.

SUGARBUZZ MAGAZINE: Black Crowes or Quireboys?

LAURENT: Hard one too!... The Black Crowes especially because of their first two albums, and
their good fashion style during the "Shake Your Money Maker" era, but I love the first Quireboys album. as well.

SUGARBUZZ MAGAZINE: Throbbing Purple or Sour Jazz?

LAURENT: Sour Jazz, I unfortunately don't know enough about Throbbing Purple.

SUGARBUZZ MAGAZINE: Celebrity Skin or Trash Brats?

LAURENT: The Trash Brats! Ricky is a good friend and a man of tastes! ...Celebrity Skin were very good, too. I remember we got compared to them in some reviews some time ago.

SUGARBUZZ MAGAZINE: Rock City Angels or Circus Of Power?

LAURENT: Rock City Angels. Got their new album and really liked it. I guess they must be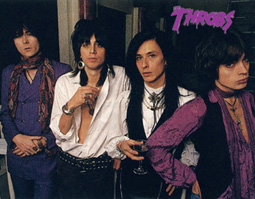 pretty sick of hearing people asking about the Johnny Depp days, though. I intereviewed Bobby a few months ago, and exchanged a few emails with him, he seems to be an interesting person, writing short novels, and with a strong interest in independent movies.

The first Circus of Power was cool too. probably one of the first bands I saw with so many tattoos.

SUGARBUZZ MAGAZINE: The Throbs or Zodiac Mindwarp and the Love Reaction?

LAURENT: Zodiac Mindwarp and the Love Reaction, 'cause I really listened to "Tattooed Beat Messiah" a lot ,when it was released, and they were intriguing enough to grab my attention in a Sigue Sigue Sputnik kind of way. The Throbs had better clothes, though! I got their demos not so long ago and couldn't believe how different they are from the album (that I like a lot, too!) They sound like the Ramones!

SUGARBUZZ MAGAZINE: Who are the ALL-TIME MOST UNDER-RATED GLAM BANDS?

LAURENT: Too many to mention! But besides the obvious Star Star, Soho Roses and Stars From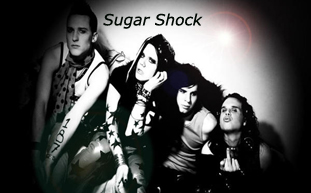 Mars, names such as Sugar Shock, Ultra Pop, also come to mind now, but I'm sure I could write down a never ending list.

SUGARBUZZ MAGAZINE: Who are your current faves? Contemporary groups?

LAURENT: I like Semi Precious Weapons, The Cute Lepers, Prima Donna... I also like stuff like Black Rebel Motorcycle Club.

SUGARBUZZ MAGAZINE: Please discuss the VEGLAM magazine, and Franck, your very cool collaborator...One thing I find exhausting about rock-ranting is while hundreds of inappropriate bands beg to be featured, seven out of eight rockstars who AGREE to be interviewed FLAKE! Does that happen to you at Veglam?

LAURENT: I started Veglam about 10 years ago, in a very D.I.Y. way, when I was just finding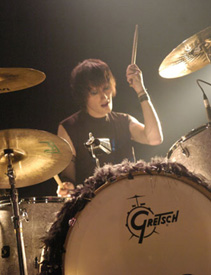 out about the wonders of the Internet. I had done local paper zines before, so I had to try this webzine thing. At the same time, I was discovering all these cool, underground, glam bands I had never heard about before. I was more into punk/hardcore in the 90s as I couldn't find much glammy stuff around. So it was a way to catch up with the whole thing again too.The Internet was making it so much easier! I got the name from a friend who called me a "Veglam" once because of my vegetarian (think I was vegan at that time) lifestyle and love for glam.

Franck found the website a few years later, and got in touch, saying he was a huge Hanoi Rocks/Dolls fan. We quickly realized that we were getting along very well. I noticed he was very passionate about these kind of bands so he naturally started to help and write for the webzine as well. And believe me, Franckie knows what he's talking about! We also get contributions from other cool writers from time to time and are still open for it.

Veglam is not a glam-only website but we try and concentrate on all things rock'n'roll or related styles.

I don't put any address on the website so that the bands have to send an email to get it. That's also a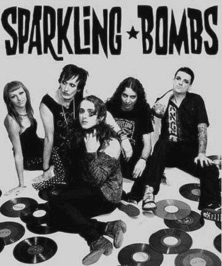 way to see who they are, and tell them not to waste their time, if they are not appropriate to Veglam. There's nothing more I hate than bands begging to be interviewed, they're usually the ones that only come with uninteresting promo-like kind of answers or even worse... The ones that actually never find the courage to send the interview replies back! So I really try to ignore this now. That's true, too many rockstars don't have anything interesting to say, but lots of underground bands are actually the same when you look at it. People are people!

SUGARBUZZ MAGAZINE: What advice could you give to hungry, tired, poor, huddled masses who dream of immigrating to France in search of liberty?

LAURENT: They'd rather come for girls, boys, studying French literature, food, or whatever but I'm not sure if this is going to feed them, in the end. The economic crisis is everywhere, but it seems like we didn't feel its effects as bad as in America, for instance, just because the situation was already bad here!

French people like to consider themselves as the centre of the universe, but the truth is that this country is slowly burying itself with its own conservatism, and fear of change, paralysed by unbreakable bureaucratic barricades.

There's a lot of things I don't like here, but at least, our health care system and social security are not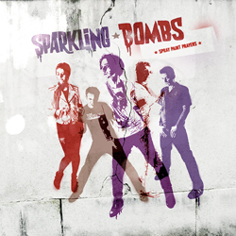 bad, and it's nice to see that a first step towards this has finally been made in the US too.

...But if you still want to come and follow the path traced by Jim Morrison, Johnny Thunders, and Stiv Bators, then, don't forget to bring your pocket dictionary since most French people are too lazy or too arrogant to speak English, even when they can...

SUGARBUZZ MAGAZINE: What is next for SPARKLING BOMBS?

LAURENT: Some German dates in July and hopefully some Japanese ones later but we still need to find the right people to work with for this. Get in touch if you can help us with this! Thanks!

SUGARBUZZ MAGAZINE: Several of our favorite rockers have been TOO SCARED to take the SUGARBUZZ ACID TEST, so thank you for your bravery, Laurent....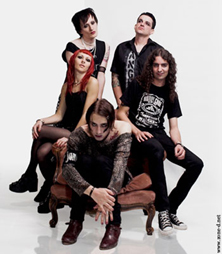 www.sparklingbombs.com
www.myspace.com/sparklingbombs

PACK IT UP:

www.enduswars.org
www.rethinkafghanistan.com
www.worldcantwait.net
www.defundwar.org
www.unitedforpeace.org
www.codepink4peace.org
www.truthtribunal.org
www.nongmoshoppingguide.com/SG/Home/index.cfm
www.losing-hope.org

(-Interview by Geordie Pleathur)