Lucky - Editor/ SugarBuzz Hollywood
Lucky is truly a Hollywood survivor. His early rock years were spent hanging out at historic places such as The Starwood, The Sugar Shack, The Whisky A Go-Go, The Troubador, Madam Wongs, and The Masque. Later he spend many a evil night hanging out at The Rainbow Bar And Grill, Scream, and The Cathouse. He has been a guitar player since the age of 14 and has played in many groups including The Battered Wives, Frenzy, The Metal Dogs, Tuff Customer, Titan, Tomy Gunn Band, Blade Runners, Final Dawn and The Alter, to name a few. He has played every club and hell hole in L.A. and Orange County at one time or another. Lucky also spent ten years as the DJ at The Rainbow Bar and Grill. Now Lucky likes to kill time hanging round the wifey.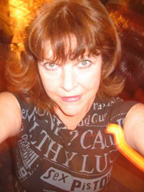 Victoria - SugarBuzz Hollywood
Who was born in Chicago? Who was raised in San Francisco? Who heard the blues on the South Side? And Hendrix and Cream at The Fillmore? Who moved to West Hollywood ten years ago and lives a block from The Viper Room? Two blocks from The Whiskey? Three from the Rainbow? Who is proud to be an American? Who wants a Constitutional Amendment banning Pay for Play? Who thinks the time is right for something powerful and amazing? Yeah, it's her. Victoria got her start in writing about rock in San Francisco for Bill Graham Presents at that same beloved Fillmore, Warfield and Shoreline. That same stint in SF got her gigs as Shopping Editor with SFStation.com and features with SF Art Magazine. She is now very happy to be living in West Hollywood, the center of the Rock universe.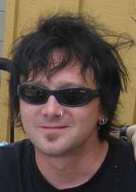 Christopher Duda - SugarBuzz Toronto
Christopher became obsessed with music at an early age. As a little gaffer, Christopher use to steal his parents records to listen to on his Mickey Mouse record player. At the tender age of ten, he became exposed to Punk Rock. That obsession grew slowly, then soon took control of his mind and body. Once he realized that he had become a narrow-minded jerk off like everyone he hated, he grew up to become an open-minded jerk off. Now everyone loves him and constantly speaks his name. He is also a Heretic. eerie@sympatico.ca

Geordie Pleathur - SugarBuzz Nation
GEORDIE PLEATHUR has written for many underground music publications, and is lead vocalist for the LOST CAUSES-a New Jersey based, post-punk band.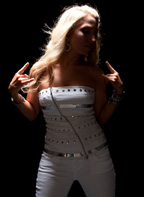 Rock N' Write - SugarBuzz Las Vegas
Rock N' Write is always on tour and ready to roll! This fly-by-the-seat-of-her-pants gal has taken her OC roots and planted them deep into Las Vegas's music scene. Whether it's glam, indie, or punk rock, Rock N' Write is there to ignite the excitement at the show and spread the word…and you better believe pictures will be involved! Her passion for photojournalism and reporting along with an insatiable hunger for music keeps her heart pulsating and her horns way up in the air…that's right, for her nothing's changed since 1989. And when she's not rocking or writing? She's enjoying the peacefulness of the OC beaches…with her ipod!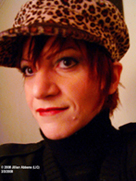 Jillian Abbene - SugarBuzz Richmond
As a bi-product of the Washington DC/Richmond, Virginia punk scene in the 1980's, Jillian's real quest is to be heard in bringing only great talent of rock 'n roll, indie and underground to the forefront. So, everybody--move over and make some room for the underdog! Leading two lives unconventionally, as businesswoman by day, feisty rocker by night, this little italian cookie wants others to be a part of what she enjoys most--rockin' out to national and international acts and bust the seams wide open to make room for unfiltered rock n' roll that's raw and true. Living up to her motto, "Never take your rock 'n roll for granted," she relies on true believers to hoist up and snuff out imposters with an impending blow in order to keeping it real. Time's a wastin'--shoot Jillian an email and let her know you care.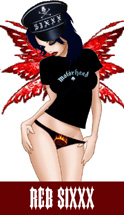 Reb Sixxx- SugarBuzz International
REB SIXXX has been in the rock music scene for over 25 years and is known in music circles world-wide. Due to this, her true identity must remain secret because her lawyer is an anal-retentive asshole. REB SIXXX is a former bass player, current record label talent scout, manager, and promotor and she is more than qualified to rock your cock off with the written word. As a writer, she is a self-proclaimed eccentric weirdo that tantalizes readers with the most brutally dysfunctional opinions on the planet. She's a straight-shooter that uses edgy truth, a sharp tongue, and a deliciously wicked sense of humor. She is a true renaissance woman in every sense of the word, and unique to the core. So strap yourself down and hang on tight. You're in for one helluva ride, baby

Cary Doll - SugarBuzz CT-NYC
Cary comes from a small town in Connecticut where her fave magazine of yesteryear, ROCK SCENE began, and started her music fandom early. She from an early age fell in love with the Stones, The New York Dolls, Mott the Hoople and T. Rex and later the Ramones, Patti Smith Group, Joan Jett and Iggy Pop. She loves going to shows and has been seen backstage with many of her faves including David Johansen, Tuff Darts, Cheap Trick and Cheetah Chrome. Her enthusiasm for glam (Semi Precious Weapons) and NY area rock (ex. Bullys The Choke) never wanes, and she can often be found in some NYC nightspot, snapping pics or just rockin'out.