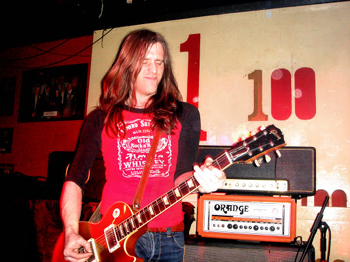 Tokyo Dragons / The Dirty Feel

100 Club
London, England

29 March 2007

Words & Pixs By Alissa Ordabai
(SugarBuzz London)
SugarBuzz Magazine
There is no shortage of nostalgia-driven bands these days in the UK, and the name of this one brings up a 1980s association. Hanoi Rocks, Saigon Kick, you get the drift. Tokyo Dragons could be following that pattern. But band names can be deceptive, which proves to be the case here, because these Brits set their time machine further back, into the age of bell-bottoms, denim vest tops and abundant facial hair. While most UK revivalist bands today find inspiration in glam metal, a genre which is easy to emulate, Tokyo Dragons have chosen to mine the legacy of the 1970s, an era which is more complex and not so easy to interpret.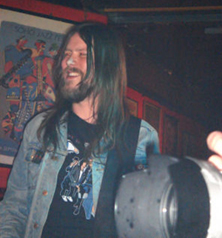 100 Club on Oxford Street, where the band played on the night, is an iconic London venue which in the past has hosted acts like the Rolling Stones, Muddy Waters, Sex Pistols, Oasis and the Clash to name a few. Not exactly a band that at this time takes the UK by the storm, Tokyo Dragons, however, still have some worthy credentials: they have played Download in June 2005, appeared on MTV2 program "Breaking Point" competing with other three bands for a record deal (they didn't win but still got signed shortly afterwards), and had a number 61 in the UK Singles Chart in 2004.

This evening the band played a mixture of old material as well as new songs from the so far unreleased new record "Hot Nuts". It took them just one song to warm up, so by the second number, "Get 'Em Off", things got into full swing, lead guitarist Mal Bruk and singer / guitarist Steve Lomax exchanging blistering guitar licks set over a vigorously assertive harmony. Bruk's solos are probably the most interesting aspect of this band's music, but what Tokyo Dragons are also good at is working the groove. This band isn't too tight, or tough, or sharp, and their tunes aren't memorable enough to be truly great, but the way they drive the harmony radiates a surprisingly passionate roiling rock intensity, which gives the songs appeal despite their predictability.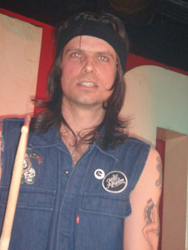 The standout "Rambling Jack" boasted a zealous groove, a clear, sharp guitar solo, and even drummer Phil Martini has given an inspired performance, for once departing form his habitually pedestrian, even though decisive, approach.

Being a relatively new band, Tokyo Dragons could still develop into a seriously interesting outfit, if only they weren't so reluctant to experiment structurally and introduced some inflection into their songwriting. So far, though, they certainly don't catch the aspects of their heroes (AC/DC, Motorhead and Aerosmith among them) that would allow their songs to take flight and propel the band into a different league.

The Dirty Feel, the support act of the evening, go even further back in time for inspiration. They seem to have listened to a lot of old-school rhythm and blues and blues-rock, both British and American, and their take on the genre brims with references to the Yardbirds, Cream, the early Stones, Booker T. and even James Brown. In the studio the singer's quirky voice is somewhat reminiscent of a young Mick Jagger, but live it fails to recreate the resemblance, which is neither a good nor a bad thing for this band, because the subdued temperament of their tunes accommodates this singer's voice quite well, even when it turns reedy in a live setting.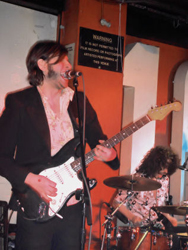 The hightlight "Soul Kisser" was a melancholy, elegant song with shadowy undertones similar to the subtle and elusively forlorn vibe of the slower tunes on the Black Crowes' first record. Another standout "Keep On" had a stealthily poignant riff and some eerie iterative moments, and these were probably the best parts of the set. While this band is at the starting stage of its artistic and stylistic development, what they demonstrate brilliantly is that blues-rock, having surfaced again in the UK these days, still challenges musicians like it did 40 years ago. This genre is still as difficult to engage in successfully as ever, despite of its seeming simplicity and familiarity. As always, it requires huge amounts of musical savvy, intuition and sincerity. Those who have it though always end up being hugely successful because the universal appeal of the genre takes care of the rest.