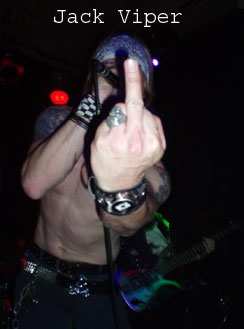 Jack Viper / Sweet Seduction / Love and Bullets
Purple Turtle, London England
16 Feb. 2007

By Alissa Ordabai
(SugarBuzz London)
Jack Viper Pix from the band
Love & Bullets/Sweet Seduction Pix By Alissa
Purple Turtle club in London, UK, has become a habitual haunt for the capital's glam rock hounds since it started to regularly showcase the best of the British up-and-coming unsigned rock talent just over a year ago. February 16 was one of those nights, featuring London sleaze revivalists Jack Viper and Love & Bullets, as well as Birmingham rockers Sweet Seduction. As decadent sleazy pleasures go, this one attracted a picturesque crowd of scenesters clad in tight denim and leather, sporting jacked up hair and black eyeliner, all gathered to celebrate the UK glam rock revival to the banging sounds of the home-grown bearers of the genre's flame.
Glam metal, of course, doesn't beg reinventing, and Sweet Seduction and Love & Bullets are smart enough to realise this. What they do ain't nothing new, but they still manage to stir up some salient action with their goody bag of sleaze, punk and 70s hard rock.
Love & Bullets, having paraphrased the name of an iconic 1980s US band, have taken a lot from their American predecessors, but sound starker and simpler, stripping the genre of polish and ornate elaborations. On the night they played a set of straightforward hard-edged songs, with basic harmonies serving as a foundation for the rough-hewn voice and lush wailing guitars. Guitarist Dave is an impressive asset of this band playing uninhibited, high voltage solos, the highlight "Sick and Tired" showcasing his uninhibited and fluid technique like no other song of the set. Fun to listen to, this band's jarring, direct variety of sleaze tonight resonated perfectly with the vibe of modern London.
Sweet Seduction, who followed after, aimed at a sharper impact, blasting off their instantly catchy first number, "Black Leather", with rough, guitar-driven energy. Their emphasis is more on vitality than on novelty, but their songs are still gripping, even when at times predictable. Numbers like "Good Time Girl" and "One Hell of a Night" made it clear that they have learnt the ropes of the songwriting craft from the likes of Guns'n'Roses, Motley Crue and Kiss, and that this is how they know how to write a song that will stay with you after the very first listen. There is often a struggle for technique in this band, but the songs are so memorable that you forget about the band's instrumental inexperience. More so than Love & Bullets, this band decides to ignore embellishments, so there are no dazzling solos or compositional intricacy as they choose to tone down the lusciousness of the American tradition with British punk-tingled austerity. Still, they end up attracting fans with the bare essentials at the heart of their appeal – solid harmonies, can't-miss hooks and clear-cut melodies hitched to the traditional sex-drink-and-good-times lyrics.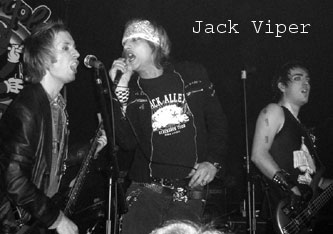 Jack Viper, the headliners, proved tonight that they are still the best in London for putting up an exciting, sleek rock show. On the opener "Spider to the Fly" singer Jay R growled his way around an indelible riff, defining the band's sound for the rest of the show. His gravely voice immediately signals what this band is about, mixing confident swagger with brutal sincerity, which are artfully counterbalanced by guitarist Eddie Shredder's trebly wall-of-flame solos. Strong and functional rhythm section gives Eddie a perfect platform from which to take flight, and his sharp, biting solos are a testimony of years and years of practice, but at the same time his stuff never sounds strained or overworked. He has a bag of 1980s guitar tricks, but manages not to sound old-fashioned, brining a modern edge and English thoroughness to his playing.
Lyrical themes of this band defy tradition too by straying away from the old power-and-sex canon. Jack Viper's songs are often full of sarcasm and unmasked contempt for the British mainstream, as was shown by the raucous "Go Fuck Yourself", another highlight of the show, which boasted a steadfast hook and a riotous chorus. A great song to shout along to, it showed that Jack Viper haven't got long to remain an underground band. With several big market tracks releases over the last 6 months, they are heading for the A-list unhurriedly but surely. And if there was anything at all to be taken away from all of the tonight's performances, it was the feeling that in London the glam rock revival party is just starting to move into full swing. The party is fun and loud, and everyone is invited.
www.myspace.com/LoveandBulletsRock
www.myspace.com/sweetseductionmusic