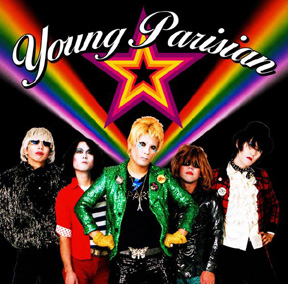 Young Parisian

S/T

Time Bomb Records-2006

By Christopher Duda
(SugarBuzz Toronto)
SugarBuzz Magazine
I'm an alligator, I'm a mama-papa coming for you
I'm the space invader, I'll be a rock 'n' rollin' bitch for you
Keep your mouth shut,
you're squawking like a pink monkey bird
And I'm busting up my brains for the words –David Bowie


Japanese whispering palaeontologists grinning space age smiles of glam and lace. These Japanese "Young Parisians" mutinous and mutate against the anachronistic death of the fire that started in the belly of the fuck you generation. The sounding board of many a movement and in the grand scheme of it's existence, glam rock was just a blip on the heart monitor. However, its tsunami-sized force gave birth to punk rock (with help from pub rock).

Resurrecting, unearthing and dusting off ancient fossils can be a frangible, tedious undertaking. The Young Parisians bring back the one-piece gold lame paint suit and feathered boas one leg at a time. Extraterrestrials full of downers teetering on thigh high platforms playing lazar beam guitars and thunderous backbeats. Succumb to the sacred act of ablution. Bathe in the river of glitter and drink from Jobriaths chalice. Marc Bolan is dead. Young Parisians breathe life into the Jeepsters lipstick filled lips. Cuddly Toys, Iggy, Ziggy, and the New York Dolls have been resurrected from the dead and they live in Japan.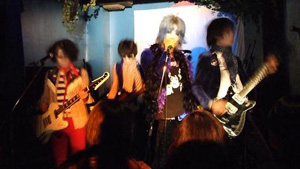 Wham Bam Thank You Glam!

http://www.myspace.com/tsuneglamsam

http://black.ap.teacup.com/tsuneglamsam/